Technology has greatly improved life for those of us in wheelchairs.
Thanks to rapid scientific marvels, our ability to access our world gets easier with each passing year. The Drive Medical Blue Streak wheelchair is an outstanding example of progress for the mobility challenged.
How times have changed! First available in 2018, this lightweight foldable wheelchair can accommodate adults weighing up to two hundred and fifty pounds.
Among wheelchairs for adults the Drive Medical Blue Streak wheelchair is part of a leading class of high-tech mobility enhanced engineering feats.
What makes Drive Medical Blue Streak wheelchair so amazing? The first folding wheelchairs were convenient and more comfortable.
But, these contraptions were unwieldy and one-size-fits-all. They required a weightlifter to hoist them. And, they filled a full-size trunk.
Key Specifications
| | |
| --- | --- |
| Product Weight | 41.25 lbs |
| Weight Capacity | 250 lbs |
| Color | Blue / Black |
| Seat Dimensions | 16″, 18″ and 20″ |
| Manufacturer Warranty | 3 Year Limited |
In A Hurry? Our Top 5 Reasons To Buy
Drive Medical Blue Streak Wheelchair
Our Score
0%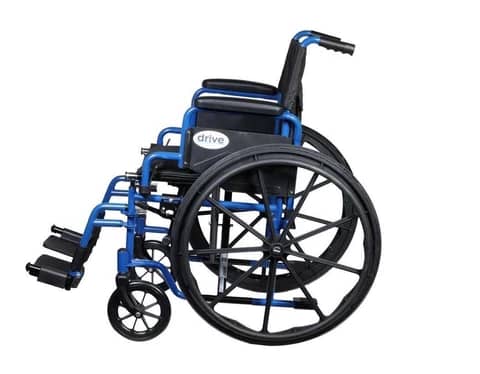 Why is it better?
Best value for a folding wheelchair.
Arm rests can be adjusted to raise and lower easily. You can pull up to the table when you eat.
Very easy to manoeuvre. You can get around your home and office with no problems.
Easy storage for items in a pocket located on the back of the wheelchair
The solid rubber tires are both durable and cushioning.
15

RESEARCHED SOURCES
3412

REVIEWS CONSIDERED
19

HOURS RESEARCHING
12

PRODUCTS EVALUATED
Drive Medical Blue Streak Wheelchair Review
The Important Bits
Features
★★★★★ 4/5
Quality
★★★★★ 5/5
Ease of use
★★★★★ 4/5
Meets Expections
★★★★★ 5/5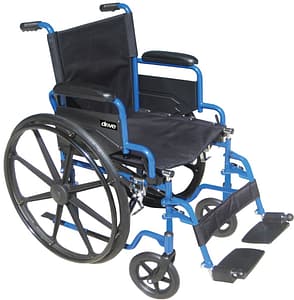 Why We Recommend This Wheelchair
For the price, the Blue Streak has a lot going for it. It rates five out of five in value when compared to other folding wheelchairs.
The Blue Streak with its powder blue coated frame will catch the eye of every passerby. In its collection of Drive wheelchairs, the Blue Streak is the fashion maven.
Best used indoors, the Blue Streak maneuvers easily. Front wheels turn easily allowing turnaround in small spaces. Reach is easily within adult arm span thus avoiding repetitive movement injuries.
Pros
For the price, the Blue Streak is unbeatable in a portable wheelchair.
The Blue Streak has convenient sixteen-inch, eighteen-inch, and twenty-inch wide seat options—all available at the same reasonable price.
This folding chair comes ready to use. There are no parts to put together and no tools required.
Users liked the durability and simplicity of use of the Blue Streak.
The Blue Streak is attractive and sporty yet durable and low maintenance and long lifespan.
Cons
Some parts may need oiling on occasion for full maneuverability.
Might be on the heavy side for some drive wheelchair users.
We believe in quality, why not save some money at the same time!
When it comes to comfort in a low-cost chair, the Blue Streak offers several features.
It comes with flip back padded desk arms, easy-to-operate disk brakes, swing-out footrests and lightweight plastic foot-pads.
All this allows for ease of making transfers in and out of your Blue Streak.
The shorter arms let to get in under worktables, bathroom sinks, and eating surfaces. This greatly improves posture and avoids aches from awkward movements and sitting positions.
The nylon upholstery is easy to keep clean. It folds up easily for transporting your chair in your vehicle. This durable material breathes to provide you with a cooler back and seat for those hot, sweaty summer days.
Leg rests can be ordered as swing-away or as elevated swing-off models that provide greater circulation for legs and feet. This second option is not usually available in portable folding and low-priced chairs.
The Drive Medical Blue Streak wheelchair is not ultralight.
However, for portability, the wheels easily flip off with just a click. Leg supports also snap off easily. This makes lifting its component parts both doable and convenient.
Because the five pieces disassemble quickly, the Blue Streak can be placed in a back seat, even a small car trunk, or the back of a van for easy travel.
This folding wheelchair is guaranteed to meet all your needs—and more.
If you are looking for a chair that will give you mobility, comfort, and greater independence, then you need look no farther.
The Blue Streak rates four out of five for convenient features. Users liked the handy pocket at the back to store items safely.
They liked the click off detachable wheels, the padded arms, and the swing away foot supports.
Drive Medical Blue Streak Wheelchair Review
Drive Medical Blue Streak Wheelchair Unboxing
Finally…
For its price, no folding chair offers the value of the Blue Streak. It is highly portable, and easy to use. This durable chair is easy to assemble and disassemble for transporting in even compact vehicles.
With its light blue enamel appearance the Blue Streak is a sporty, attractive chair.
When buying this model of wheelchair, it's a good idea to also buy the Drive Medical 14886 Skin Protection Gel "E" Wheelchair Seat Cushion. Doing this provides extra protection and comfort.
The Drive Medical Blue Streak wheelchair has a lot to offer those who are mobility challenged.
Drive Medical Blue Streak Frequently Asked Question
How much does the Drive Medical Blue Streak Wheelchair weigh?
Answer: The total weight of this wheelchair is 41.25 pounds. This weight is more than some other models. The chair is an ideal weight for most users but some may find it heavy.
Can I take this chair on an airplane?
Answer: The chair can be folded and sent onto the plane as checked luggage. It is tagged for last-one and first-off so it arrives at the door of the plane when you arrive at your destination.
Does the chair have to be assembled?
Answer: Only the leg rests have to be clicked in place when it arrives.
What is the maximum amount of weight that can be held by this chair?
Answer: The maximum amount of weight that this chair can hold is 250 lbs.
How do you know which width you need?
Answer: The chair should be wide enough to accommodate width across the buttocks, hips, or thigh. It is important not to feel too snug in the chair.
Are there accessories that should be purchased?
Answer: If you are going to be sitting in the chair for extended periods, we highly recommend a good supportive cushion. Our choice is the Drive Medical 14886 Skin Protection Gel "E" Wheelchair Seat Cushion.
Can I use this chair outside?
Answer: The Blue Streak is not intended for transport across grass, sand and other uneven and challenging surfaces. Certainly you could sit in it on a porch or patio.
What is the width of the Drive Medical Blue Streak Wheelchair?
Answer: Width varies as you may buy sixteen, eighteen, or twenty inch seat widths. Add six inches to each to get maximum chair width. So, a twenty-inch chair would be twenty-six inches wide.