Are you looking for a wheelchair that will not break the bank?
Do you want a wheelchair that gives you durability, maintenance-free long life?
Do you want a wheelchair you can put into your trunk and go? Then, the Drive Medical Cruiser III is what you are looking for!
Drive Medical Cruiser III Key Specifications
| | |
| --- | --- |
| Product Weight | 35 lbs |
| Weight Capacity | 350 lbs |
| Color | Black |
| Seat Dimensions | 16″, 18″ and 20″ |
| Manufacturer Warranty | Lifetime Limited Warranty* |
In A Hurry? Our Top 5 Reasons To Buy
Drive Medical Cruiser III Wheelchair
Our Score
0%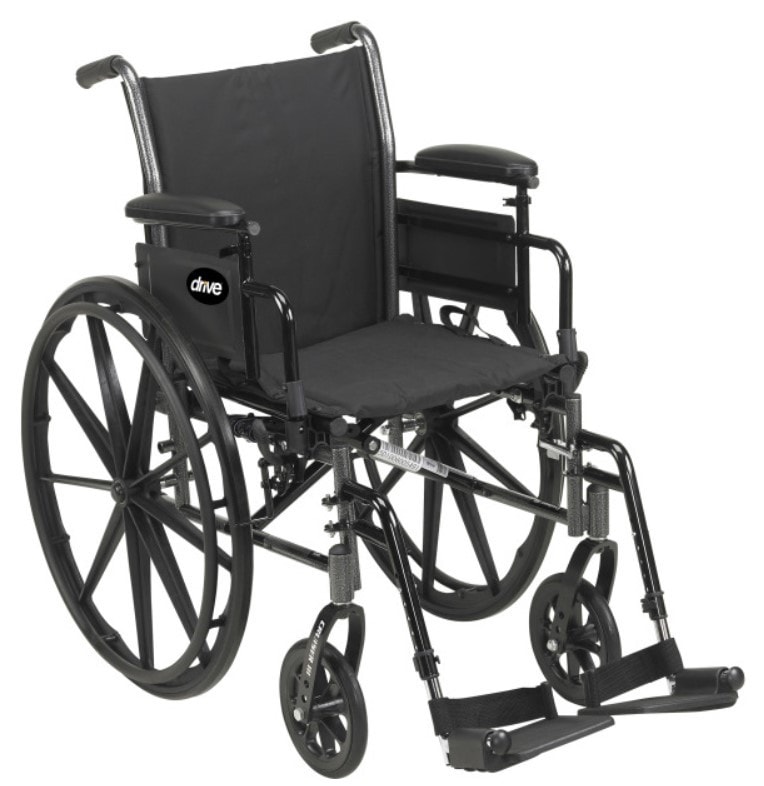 Why is it better?
This chair is excellent value. No other lightweight wheelchair is as economical.
The Drive wheelchair is manufactured in the USA. The dual axles provide easy manoevrability.
The Drive Cruiser III brakes are better than any of its competitors. They make your chair safe for manoevring and securing in place.
The Drive lightweight chairs come with sporty maintenance mag-style wheels.
This chair comes with swing-away footrests which can be adjusted for elevation.
12

RESEARCHED SOURCES
1043

REVIEWS CONSIDERED
15

HOURS RESEARCHING
11

PRODUCTS EVALUATED
Drive Medical Cruiser III Wheelchair Review
The Important Bits
Features
★★★★★ 4.5/5
Quality
★★★★★ 5/5
Ease of use
★★★★★ 4.5/5
Meets Expections
★★★★★ 5/5


Why We Recommend This Wheelchair
It is easy to fold and unfold. It will fit in you trunk and at only thirty-five pounds most adults can lift this chair into a car trunk.
The chair is very durable. The attractive carbon steel frame with metallic veining has a lifetime warranty.
Most lightweight folding chairs will accommodate users of up to two hundred and fifty pounds. The Drive Medical Cruiser will hold users of up to three hundred and fifty pounds.
Manufactured in America, the Drive wheelchair is great value for its cost.
The carbon steel frame with its attractive steel vein finish has a lifetime warranty. This lightweight chair weighs only thirty-five pounds. It folds up to only twelve inches wide.
Leg supports easily click off so the chair will store easily in a closet when not in use. It is easily transportable in any car trunk.
The Drive Cruiser III has removable flip back arms for easy transfer to car, toilet, or bed. The nylon upholstery is durable and breathes so the chair does not get sweaty. It is also easy to clean.
The mag-style wheels are maintenance free. The Cruiser III dual axle makes seat height adjustment easy. The brakes are better than those of other lightweight folding chairs.
The Cruiser III has several easy adjustments. The eight-inch casters on the front of the Drive wheelchair make it easy to adjust to three different positions. Leg supports adjust for elevated leg positions.

The adjustable seat is an amazing convenience. It allows up to two extra inches. This can make a big difference to user comfort.
All adjustments on this lightweight wheelchair can be performed without tools. Armrests can be taken off with the click of a switch.
Leg rests click off or swing away. Leg supports can be raised or lowered without tools.
Whether on hardwood floor, tile, carpet or outdoors the Drive Cruiser III durable, soft rubber wheels give a smooth ride.
The Drive Medical Cruiser III wheelchair is low maintenance from its tough nylon upholstery to its scratch and corrosion free carbon steel frame. This wheelchair is built for durability and ease of use.
Pros
For the cost, this lightweight folding chair is a great value.
Adjustments to the seat width and height, footrests, armrests, and position can be done without tools.
The chair folds to twelve inches for transport or storage. At only thirty-five pounds, this durable chair can be lifted easily into a car trunk.
The chair travels comfortably over various surfaces on its soft but durable wheels.
Cons
Some users have found that the brakes on the Cruiser III wheelchair do not hold well.
Water may cause damage to the metallic parts of this lightweight foldable wheelchair.
Drive Medical Cruiser III Wheelchair Review
How to Put on or Take off Drive Medical Cruiser III Leg Rests
Finally…
The Cruiser III is an excellent lightweight wheelchair. For someone who is temporarily disabled or who needs a wheelchair for traveling or for long walks, this foldable chair is ideal.
You can store it in a closet when not in use and lift it easily into a car trunk when you travel With adjustable casters, this wheelchair makes seat width and position easy to adjust.
The elevating leg supports and sturdy footrests make this chair comfortable.
For under a hundred and fifty dollars, the Cruiser III offers outstanding value in a portable wheelchair.
For those who are planning to sit in this chair for any length of time, I'd recommend the Drive Medical Skin Protection Gel "E" Wheelchair Seat Cushion and a Universal Cup Holder.
Drive Medical Blue Streak Frequently Asked Question
What is the total width of this wheelchair, including the seat, frame, and wheels?
Answer: The overall width of your chair is dependent on the width of the seat. The sixteen-inch seat chair will have an overall width of twenty-four inches. This means an eighteen-inch seat will be twenty-six inches wide in total. With a twenty-inch seat, the chair will be twenty-eight inches wide.
What's the actual weight
of the chair?
Answer:The Drive Medical Cruiser III weighs only 35 lbs. Detach leg support and/or armrests and the chair is even lighter.
How heavy of a person does it support?
Answer: The Drive Medical Cruiser III will support users of up to 350 lbs.
Are the leg rests removable?
Answer: The Drive Cruiser III leg rests are easily removable with a click.
What are the advantages of dual axles?
Answer:
The chair has a short axle for each wheel. This allows for easy transition of seat height to hemi level.
Is this transportable by a woman in a car trunk?
Answer: The Drive Medical Cruiser III lightweight chair is a portable chair. Weighing only thirty-five pounds, it is very easy for an adult to lift. It fits easily into the trunk of a car.
Does The Drive Medical Cruiser III come with a warranty?
Answer: There is a Lifetime Limited Warranty on the frame.
How do you fold the Drive Cruiser III Wheelchair?
Answer: This portable wheelchair is easy to fold up and open. You simply press down on the seat to open and lock it in place.
Latest posts by MobilityHive
(see all)