Thanks to the internet and new technology, people with disabilities can now work from home. The internet has made it possible to do online jobs for disabled people.
In spite of the fact that someone is in a wheelchair, he/she may be very productive. Fortunately, people like Stephen Hawking have proven to the public that disabled people can be and wish to be at work.

Many companies are beginning to recognize that part-time jobs for disabled persons exist and can be filled by those who are mobility challenged. In fact, there are more than 1.6 million jobs in the United States that are accessible to people with disabilities.
I know because I am in a wheelchair. I am self- employed.

After 5 weeks of in-depth research, I've come up with a list of 32 legit companies that will offer work from home jobs for disabled.
Note: Job listings change constantly.
32 Companies that Hire Disabled Adults
#1 Amazon
Amazon offers jobs for people with disabilities across a variety of roles. Positions are available for remote Consulting Services Managers, Program managers, Graphic Designer, Marketing managers, etc.
Moreover, amazon helps physically disabled adults navigate through their careers as well as provides an opportunity for mentees to act as role models within the organization.
Amazon is a huge employer of work from home employees. In fact, as the world's largest eCommerce business this giant is always looking for employees to work from home.
Consider a call center Amazon call center/customer service representative job. Call center representatives start at $15.34 an hour. Managerial jobs can develop from these positions.
Amazon employees have many benefits including medical and insurance.
#2 Meta (facebook)
Meta has been named a "2019 Best Place to Work for Disability Inclusion" and awarded a top score of 100 in the Disability Equality Index (DEI®) for the second year in a row.
Meta (facebook) is the world's most popular social media network, with 2.9 billion (January 2022) monthly active users.
Meta been known for being a great resource for sit-down jobs for disabled people. They have many different positions that can be done from the comfort of your own home.
Meta (facebook) revealed in June 2021 that workers may work from home full-time permanently. This makes it a great choice for those who are looking for work but find it difficult to leave the house.
Additionally, their pay is often above average, making it a wise choice financially as well. If you are looking for a job at home, be sure to check out Meta!
#3 IBM
IBM has been hiring autistic employees for over a decade, and they now make up 2% of their workforce.
The company has a long history of supporting employees with disabilities, and in recent years, has made a concerted effort to hire and support employees on the autism spectrum.
IBM has found that employees on the autism spectrum often have strengths in areas such as pattern recognition, attention to detail, and data analysis.
The company has created a special program, called the Autism Hiring Program, to identify and support employees on the autism spectrum.
The Autism Hiring Program includes a number of supports for employees, such as social skills training, mentorship, and access to special resources.
#4 AT&T
AT&T has a focus on hiring people with disabilities for its workforce. AT&T offers many benefits to help employees in their pursuit and retention of work.
The company partners with organizations that work to get more skills and job training opportunities available to disabled adults. AT&T offers several at home jobs for disabled adults in multiple positions.
Both part-time and full-time workers receive competitive salaries, benefits, and AT&T product discounts.
#5 American Airlines
As an employer, American Airlines offers entry-level jobs for the physically disabled at home. The company has positions in sales, customer care, and accounting services where you can work from home. All jobs pay you money when you work. Health benefits are given too. It is fun to get paid overtime and other bonuses.
#6 Accenture
Accenture is one of the leading companies that offer jobs for people with disabilities. Accenture employs more than 569,000 people in more than 200 cities in 50 countries.
The company has been named by Fortune as one of the most admired companies and is a member of the S&P 100, Russell 1000 Index. Accenture was listed on the New York Stock Exchange in 2001.
Accenture offers work from home jobs to disabled adults in a variety of positions:
#7 American Heart Association
American Heart Association helps remove barriers and offers jobs for disabled people. They have many positions for disabled people who are looking to work from home and still make a difference in the world.
They provide individualized job coaching, work-at-home opportunities, and assistive technology to help you get started on your career in the medical field.
#8 United Healthcare
This health insurance company has a history of partnering up with government and other non-profit organizations. UnitedHealth Group is offering a career development program open to candidates with disabilities who want to gain corporate experience. These programs are aimed at supporting people in wheelchairs.
Most positions seem to be for customer service or outside sales, but there are some online jobs available for those with disabilities who can do a phone interview as well.
#9 Capital One
Capital One has several remote positions. Most require that you live less than a hundred miles from a Capital One main hub. They offer a variety of different career paths including positions for people with disabilities.
#10 CVS Health
CVS Health is an equal opportunity employer and maintains a diverse workforce. CVS Health has been awarded a perfect score on the 2018 Disability Equality Index.
The company also has many different types of benefits available for all employees regardless of disability status.
#11 U.S. Bank
U.S. Bank is one of the largest commercial banks in America, with approximately 2,900 locations nationwide.
U.S. Bank is always looking for high-caliber people to join their team, including those who are disabled or have any other special need they may require accommodation for to make a successful career at U.S. bank, according to the company's website Jobs page.
#12 BOEING
The Boeing Company is the world's leading aerospace company, providing commercial airplanes, defense equipment, and other products.
The company offers a range of work from home jobs for disabled people, ranging from Data scientists to Business interns.
Plus, the company is committed to developing a diverse and inclusive workforce that includes people with disabilities.
#13 Humana
Humana insurance company is known for hiring veterans with disabilities. This company's workforce typically consists of 47% of remote workers.
These people work in a variety of positions such as social work and accounting, which has expanded with remote employees. All jobs pay an hourly wage and have health benefits, paid overtime, and other bonuses.
#14 Kaplan
Kaplan is one of the best places to start if you are looking for work from home jobs in sales.
They have a specific team dedicated to supporting disabled people who want to sell their skills and knowledge over the phone or the internet.
The company offers online training and support as well as flexible hours so that it's easy for even those with mobility challenges, such as wheelchair users, to find success at Kaplan.
As an employee of this company, your duties would include cold calling potential customers on behalf of courses and programs offered by Kaplan University.
You can be based anywhere in the country due to how virtual these customer service positions are made available.
The company offers paid vacation time and competitive hourly rates. See if there is a job uniquely suited to your talents.
#15 Hilton
Hilton offers remote internships to people suffering and recovering from any kind of mental illness. Hilton provides careers where employees determine where and when they work according to what best suits their needs, including remote positions.
The company's work from home programs has enabled disabled adults to find jobs that fit their lifestyle.
#16 LiveOps
Liveops provides the opportunity for disabled people to work from home and find meaningful employment in various fields.
The companies for whom they contract are looking for virtual services to their customers. Jobs exist in industries like rental, healthcare, retail, roadside assistance, tax support, virtual call centers, and insurance chat line customer service reps.
#17 American Express
American Express is one of the top twenty companies that hire disabled adults. American Express has a variety (number) of jobs that they're looking for people who have disabilities to fill positions ranging from customer service representatives to accountants. Employees get paid vacation and other benefits.
#18 United Parcel Service (UPS)
United Parcel Service (UPS) is one of the world's largest shipping companies headquartered in Atlanta, Georgia. The carrier serves more than 220 countries and territories worldwide. They also offer at home or online jobs for a disabled person.
#19 Cox Communications
Cox Communications is the 3rd largest cable provider in America. Cox Communications has 22,000 employees who serve 6 million customers.
The company offers jobs for individuals who have a disability that can be accommodated by the corporate culture. They scored 80% on the 2020 Disability Equality Index (DEI).
#20 KeyBank
Keybank is a financial institution that offers banking services while offering at-home jobs for the disabled in many of its branches.
KeyBank has positions for call-center representatives, receptionists, and personal bankers. Applicants should be able to use the phone system, have good communication skills, and work well on their own or as part-time team members.
#21 Allegis
If you're interested in and good at transcription, then Allegis is a good company to throw your hat in the ring. The company trains beginner transcriptionists. It's a nice place to start an online career for people in wheelchairs.
You may live anywhere in the US. Jobs are available 24/7. Moreover, you can choose which files you feel competent to work on.
#22 Blue Cross Blue Shield of Michigan
When it comes to hiring, Blue Cross does not view disabilities as a person's identity. They offer plenty of jobs for people with disabilities. Besides, the company provides information to educate employees and business leaders on the best ways to interact with people with disabilities.
#23 Aetna
Aetna is dedicated to helping employ people with disabilities. They also have some accommodations for hearing and vision impaired, which are common disabilities among their employees. Over 40% of Aetna's workers telecommute. The minimum wage is $16/hour. There are also medical benefits and health insurance.
#24 TCB Corporation
TCB Corporation has 3200 tire and automotive services franchises. They have customers in the USA, Mexico, and Canada. Many online data entry and marketing positions are available online.
#25 CENTENE Corporation
Centene is a Fortune 500 company with more than $100 billion in annual revenue. Centene proactively hires people with disabilities as employees.
The company offers full-time jobs to disabled employees who are qualified to work at least 20 hours per week. These include roles that range from customer service representatives and medical transcriptionists to managers overseeing teams of workers.
#26 COMCAST
Comcast Corporation is an international media and technology company that operates two primary businesses: Comcast Cable and NBCUniversal.
Comcast actively working to hire, retain, and empower people with disabilities. The company typically offered flexible, part time jobs for disabled person.
#27 General Motors
General Motors, one of the world's largest manufacturers of cars and trucks, has done business under brands like GMC, Chevrolet, Cadillac, and Buick. General Motors is a company that hires disabled adults for full-time jobs.
GM partnered with more than 25 disability government, community, and academic sourcing partners to hire disabled candidates.
#28 Enterprise
Enterprise has a hundred customer service positions available full and part-time for those who wish to work from home.
The job pays nearly $13/hour. There are also paid bonuses for employee performance that can add up to $600 monthly.
#29 Mozilla
If you're a techie then Mozilla has a job for you. You can work remotely in programming and tech-related careers anywhere around the world. Mozilla offers competitive pay and excellent medical benefits.
The company also provides conference and travel budgets. Check out their website for great jobs.
#30 Xerox
Xerox employs over 8,000 remote employees. Their Heroes@Homeprogram makes a special point of hiring disabled veterans.
Xerox has many job openings in Customer Care, Tech Support, Data Entry/Verification, Image Tagging, and more positions available to remotely employed individuals who are physically impaired or disabled in some way.
#31 GitHub
Github strives to offer better interview processes for physically disabled candidates. Most GitHub job categories are work-from-home positions.
You can work in any of the eighteen countries. Both the wages and benefits vary from one country to another.
#32 Nielsen
Nielsen is an international company that provides companies with information about what people buy and watch. Nielson has an ongoing need for remote job seekers.
They offer online jobs to handicapped adults for a variety of positions.
---
How Can You Get a Job with a Disability?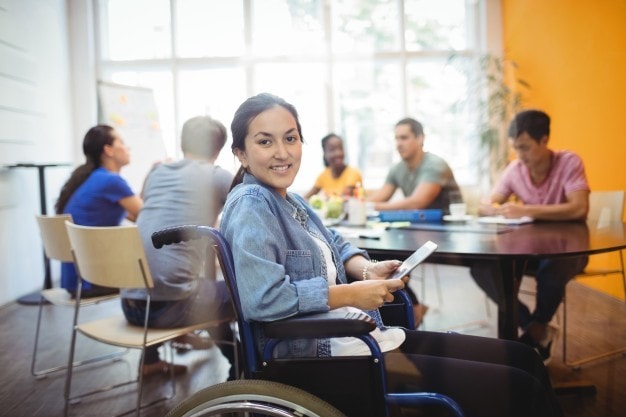 There are several ways you can find jobs for disabled work from home. You can search for jobs in old fashioned ways.
Ask friends and relatives for leads. Search want ads. Check bulletin boards in offices and community organizations you frequent. Seek job ideas through employment agencies.
Find out if there are businesses and groups in your area that hire people with physical challenges. Don't be too proud to make use of these avenues.
After you get your foot in the door, you can prove to your new employer that your physical challenge is no block to your excellent work ethic and productivity.
We, seniors, have some unique opportunities. We can avail ourselves of both at-home and in-business jobs aimed at seniors.
You can also seek jobs for disabled seniors through seniors' organizations in your community or an online link or chat room.
Make use of the Internet in your search. Look for opportunities for work at home for disabled. There's a whole world of jobs out there all around the world.
All you need is a computer and an Internet connection! I work for people in India, Pakistan, Australia, Great Britain, the USA, Canada, and the Philippines and I do all this from home.
5 Easy Work from Home Jobs for Disabled People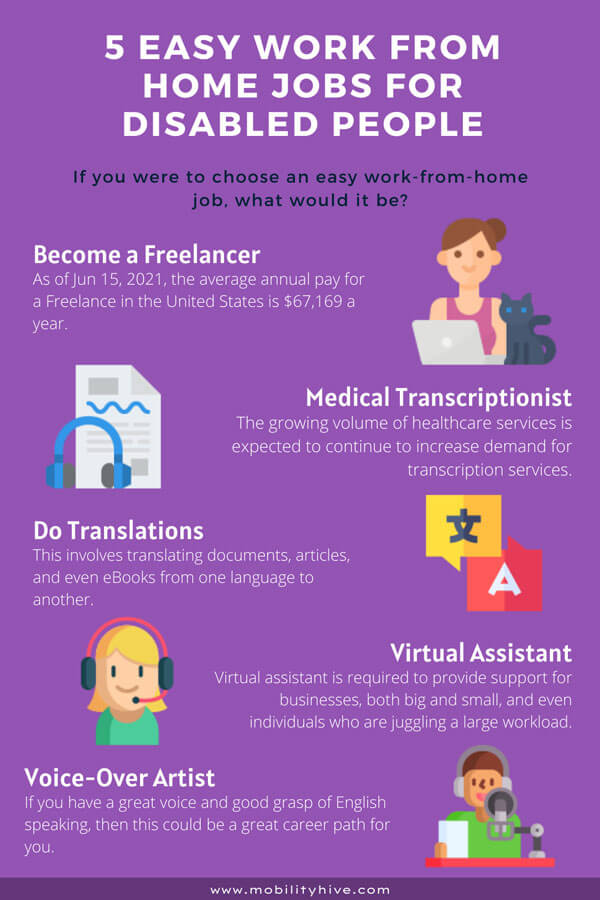 People with disabilities once had trouble finding employment. Not all companies hired people with challenges. If they could find work, it often didn't come near their capabilities!
Things have changed, fortunately. There are different types of at-home jobs disabled people might be able to do.
The internet, globalization and technological advances—including tablets, laptops, and smartphones have made it appealing to work from home and have created tons of feasible jobs for disabled people.
So if you were to choose an easy work-from-home job, what would it be?
#1 Freelancing
With freelancing, you can work as long or short a time as you want or need to work. You can travel and take your work with you. You can take single days or blocks of time off.
You can work an hour or two a day if that's what you want. You can work in your pj's or in the middle of the night. Check out companies like Upwork, Fiverr, Freelancer, and Amazon to bid on jobs.
There are many freelance jobs people with disabilities are quite capable of doing. Basically, any job that can be done from home is a potential job for people with mobility challenges. Here are some examples:
Data Entry – It is the easiest job in the freelance industry. It does not require any experience at all. Therefore, this type of job will not always pay well.
Data entry operators work with databases and records of valuable company information. Example: Transfer information from reports to Xcel spreadsheets.
Data entry is the perfect job for mentally disabled adults. These jobs require little to no social interaction and can be done from the comfort of "work form home". Data entry workers can work as little or as much as they want, and can often set their own hours.
They are also relatively low-stress and can provide a source of income. You can usually find these jobs at home through online boards or by simply searching on google!
Writing – Writing online is a lucrative business. If you can write, there are many at-home work opportunities available to you. It's the perfect part-time job for a disabled person.
You could find work as an editor or blogger and get paid monthly based on how much your articles sell by driving traffic back to websites.
It would really depend on what kind of writing skill set that person has but freelance writers usually make between $500-3000 per month.
Graphic Design – These jobs are perfect for those who have a natural talent for art and design!
A lot of designers work from home, but it is important to note that this type of job will require you to be able to use your creativity with Photoshop, Illustrator, etc.
Web Development – Web developers are the best at-home career for disabled people who have a fascination with computers and technology.
Web developers make a website, maintain its design, fix any bugs that appear on the site, and keep it up to date.
This can be a good job option for a deaf and mute person. These jobs require little to no verbal communication and can be done entirely through written communication and sign language.
A web developer should have good experience with coding languages like HTML, CSS, JavaScript, Python, PHP, and Java.
#2 Medical Transcriptionist:
A medical transcriptionist is a person who transcribes (into text format) voice recordings from healthcare professionals or other sources such as interviews, lectures and hearings.
We've noted sites looking for people adept at transcribing court proceedings or medical reports from voice recordings. There is a shortage of workers for this field.
Benefits and pay are good. You can choose your transcription jobs. You can be as busy as you wish to be and work from anywhere, any time of the day or night.
#3 Translations:
Find translation jobs, if you know a second language.
This includes translating documents, articles, and even eBooks from one language to another.
You need to have a good understanding of the language you are translating from and into, as well as any special terminology.
For example: If you were to translate an article about "Best Jobs for Disabled People" from English into Spanish (the target language), then it is important that you understand both languages equally in order to be able to write properly without writing inaccurately or incorrectly.
#4 Virtual Assistant:
One of the easy jobs for disabled adults that can be done from home is a virtual assistant. This at-home job is perfect for those who are a jack of all trades and have good people skills.
Virtual assistants do administrative work, such as bookkeeping, scheduling, or data entry on behalf of their employer. They can also be project managers!
It's important to note that this type of job will require you to use your organizational skills and follow instructions carefully over the phone with customers in order to provide them satisfactory service.
#5 Voice-over Artist
Voice-over artists are part of the entertainment industry and provide voices for animated movies, TV shows or video games.
This at-home job is perfect for those who enjoy working with their voice and have a deep understanding of storytelling.
However, it's important to note that this type of job will require you to use your imagination in order to think about different characters' personalities as well as come up with believable dialogue on the fly!
In Conclusion
We've come a long way. My valued clients don't know or care that I am working for them from a wheelchair. They want high-quality work on time. Companies have learned that people with disabilities have valuable experiences and skills to share.
If you or someone you know is having a hard time finding work from home employment have them check out the sources I've described.
Frequently Asked Questions about Work from Home Jobs for Disabled
Can I work from home on disability?
Yes, you can work from home on disability.
Any individual who has a documented disability and that the employer is aware of may request to be allowed to work from home at their discretion. This is because working from home can often be accommodated as a reasonable accommodation under the ADA.
Is it hard for a disabled person to get a job?
In the age of the internet not anymore. The internet is full of jobs for disabled people so it shouldn't be difficult to find one if you're willing to put some time into looking for them!
Many businesses are now committed to hiring people with disabilities. Companies can often find that disabled employees' experience makes them invaluable, and they will quickly become indispensable team members. Plus, many federally-funded programs exist like the Job Accommodation Network (JAN) aimed at assisting employers as well as workers accommodations nationwide by providing employment related assistance free and we'll explore all options together.
Does amazon hire disabled adults?
Yes, Amazon is a huge employer of disabled adults and work from home employees. They have many positions available for disabled adults such as Data Entry Specialist, Customer Service Assistant, and Payment Associate.
How do you make money if you are disabled?
The Social Security Administration provides survivor's and SSDI benefits ($1,220 monthly) if you are unable to work.
Some other paths that might be worth exploring include self-employment as a freelancer (mentioned above) or part time jobs at local retailers or businesses in your area. Life always gives us opportunities; we just have to look around us and make some of our own too! Good luck!

Latest posts by Gail Lennon
(see all)