Thanks to modern technology, jobs for disabled people at home are now a reality. Internet, global economy, and online commerce have increased the options for online jobs for the disabled.
In spite of the fact that someone is in a wheelchair, he/she may be very productive. Fortunately, people like Stephen Hawking have proven to the public that disabled people can be and wish to be at work.
Many companies are beginning to recognize that part-time jobs for disabled exist and can be filled by those who are mobility challenged.
I know because I am in a wheelchair. I am self- employed.
25 Companies that Hire Disabled Adults
#1 Amazon
Amazon is a huge employer of work from home employees (. In fact, as the world's largest eCommerce business this giant is always looking for employees to work from home.
Consider a call center Amazon call center/customer service representatives job at: amazon.jobs . Call center representatives start at $15.34 an hour. Managerial jobs can develop from these positions. Amazon employees have benefits including medical and insurance.
Positions are available for remote consulting services managers, Cloud infrastructure architects, and marketing managers. You can work from anywhere.
Amazon's work from home program offers many job options for full-time and part-time workers. Is amazon work from home legit?
Thousands of freelancers and employees who work remotely and have done so for years would assure you it is.
#2 Apple
The company has a clear policy of inclusion in its hiring. Positions are available for at-home advisors, team managers, and area managers. Both part-time and full-time workers receive competitive salaries, benefits, and Apple product discounts. Check out latest jobs here: Jobs at Apple
#3 Xerox
Xerox employs over 8,000 remote employees. Their H[email protected] makes a special point of hiring veterans. The company offers medical benefits, paid vacation time, life insurance, retirement plans, and employee assistance programs.
Positions are available for virtual customer care reps, tech supports, programmers, customer responders, and other customer-related jobs.
#4 United Healthcare
This health insurance company has a history of partnering up with government and other non-profit organizations. They have initiated programs like : careers.unitedhealthgroup.com. These programs are aimed at supporting people with disabilities.
#5 Capital One
Capital One has a number of remote positions. Most require that you live less than a hundred miles from a Capital One main hub. Customer support jobs start at $16/hour. There are also full benefits, paid vacations, family support, and 401k plans. Check out jobs at : capitalonecareers
#6 CVS
Look at the CVS website (cvshealth.com) for a list of remote job options. These include consultant, sales, customer support, and administrative assistant.
#7 Humana
Humana has positions in sales, customer care and financial services where you can work from home. All jobs pay an hourly wage and have health benefits, paid overtime, and other bonuses. Humana insurance company is known for hiring veterans with disabilities. Check out jobs at: HumanaCareers
#8 xStellar
xStellar is entirely dedicated to helping adults with disabilities find meaningful career positions. Jobs are available in fields like clerical, data entry, indexing, archiving and office administration.
There are light industry jobs in warehousing, crating, packing, and shipping. Job openings in Information Technology and Quality Management are also available.
Entry-level technicians earn between $12.50 and $16.00 an hour. Check out jobs at: Join xStellar
#9 Mozilla
If you're a techie then Mozilla has a job for you. You can work remotely in programming and tech-related careers anywhere around the world. Mozilla offers competitive pay and excellent medical benefits.
The company also provides conference and travel budgets. Check out their website for great jobs : Mozilla
#10 Flex Jobs
This company offers a wide range of work from home options. Check out what is available for freelancers at: flexjobs.com
#11 GitHub
Most GitHub job categories are work-from-home positions. You can work in any of the eighteen countries. Both the wages and benefits vary from one country to another. Do the research.
#12 Allegis
If you're interested in and good at transcription, then Allegis is a good company to throw your hat in the ring. The company trains beginner transcriptionists. You may live anywhere in the US. Jobs are available 24/7. Moreover, you can choose which files you feel competent to work on. Check out jobs at: Allegis Transcription
#13 Kaplan
In this education-focused company, there are paid jobs in writing, marketing, and sale. Schedules are flexible so you can combine this with a traditional job. The company offers paid vacation time and competitive hourly rates. See if there is a job uniquely suited to your talents at: Join Kaplan
#14 Indeed
Indeed is an American company with worldwide connections. They run an employment-related search engine for people with disabilities. There are wide ranges of job types and salaries. See what is available at: indeed.com
#15 Hilton
The hotel people offer at home or remote jobs. Full-time jobs require travel but part-time positions can be done from anywhere. Remuneration is competitive. Find a virtual job at: Join Hilton
#16 Arise
Arise (arise.com) provides opportunities for you to be your own boss and work from home. Arise contracts with Fortune 500 companies, brands, and call centers. Jobs are widely varied and so is the pay. To access the jobs you form a partnership with Arise. Check out details at : ariseworkfromhome
#17 American Express
American Express is one of the top twenty companies offering remote jobs. Most of them are in such areas as Customer Service, Travel and Lifestyle, Sales, and Human Resources. Employees get paid vacation and other benefits. Sign up at: American Express Virtual Career
#18 Aetna
Over 40% of Aetna's workers telecommute. The minimum wage is $16/hour. There are also medical benefits and health insurance. See what is available at: Aetna Jobs
#19 TCB Corporation
TCB Corporation has 3200 tire and automotive services franchises. They have customers in USA, Mexico, and Canada. Many online data entry and marketing positions are available online. Pay varies. Look for career options at: Jobs TCB Corp.
#20 Nielsen
A global, data-collection company, Nielson has an ongoing need for remote job seekers. Employees may be engaged in everything from IT to sales, research to engineering. The company offers health care, long-term/short-term disability coverage, dependent life insurance, and employee assistance. Check out what is available at: Nielsen Careers
#21 Every Job for Me
Every Job for Me (everyjobforme.com) provides opportunities for self-employed to bid on current job listings and work from home. Jobs and pay vary widely. For job openings, check out their website. They send current job listings that fit your profile to your email address.
#22 Higher Income Jobs
Higher Income Jobs (higherincomejobs.com) have full-time and part-time jobs available to work from home. These jobs vary from no experience necessary for specific skills and experience. Pay ranges from $17 to $35 an hour.
# 23 Enterprise
Enterprise (careers.enterprise.com) has a hundred customer service positions available full and part-time for those who wish to work from home. The job pays nearly $13/hour. There are also paid bonuses for employee performance that can add up to $600 monthly.
#24 Freelancer
Freelancer (freelancer.com) jobs include one-time opportunities to ghostwrite, create a website, or write SEO articles. They also offer long-term positions like a virtual assistant or marketing executive. You bid on the jobs stating your experience and the hourly or lump sum you will work for. Freelancer takes a percentage.
#25 Live Ops
Live Ops has remote work opportunities as an independent contractor. The companies for whom they contract are looking for virtual services to their customers. Jobs exist in industries like rental, healthcare, retail, roadside assistance, tax support, virtual call centers, and insurance chat line customer service reps. Check out the jobs at: Join Liveops
How Can You Get a Job with a Disability?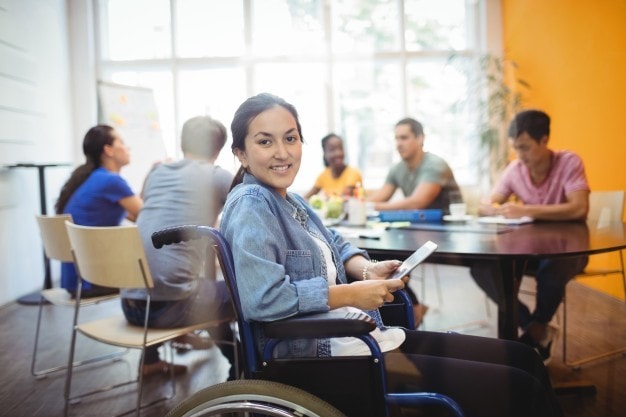 There are a number of ways you can find jobs for disabled work from home. You can search for jobs in the old fashioned ways.
Ask friends and relatives for leads. Search want ads. Check bulletin boards in offices and community organizations you frequent. Seek job ideas through employment agencies.
Find out if there are businesses and groups in your area that hire people with physical challenges. Don't be too proud to make use of these avenues.
After you get your foot in the door, you can prove to your new employer that your physical challenge is no block to your excellent work ethic and productivity.
We seniors have some unique opportunities. We can avail ourselves of both at-home and in-business jobs aimed at seniors.
You can also seek jobs for disabled seniors through seniors' organizations in your community or an online link or chat room.
Make use of the Internet in your search. Look for opportunities for work at home for disabled. There's a whole world of jobs out there all around the world.
All you need is a computer and an Internet connection! I work for people in India, Pakistan, Australia, Great Britain, USA, Canada, and the Philippines and I do all this from home.
5 Easy Work from Home Jobs for Disabled People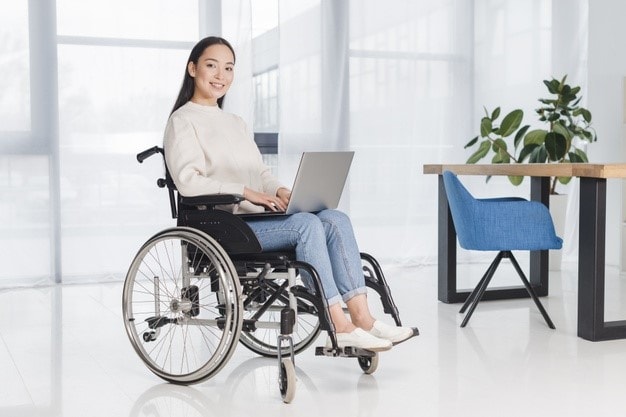 People with disabilities once had trouble finding employment. Not all companies hired people with challenges. If they could find work, it often didn't come near their capabilities!
Things have changed, fortunately. The internet, globalization and technological advances—including tablets, laptops, and smartphones have made it appealing to work from home and have created tons of feasible jobs for disabled people.
So if you were to choose an easy work-from-home job, what would it be?
1. Freelancing
With freelancing, you can work as long or short a time as you want or need to work. You can travel and take your work with you. You can take single days or blocks of time off.
You can work an hour or two a day if that's what you want. You can work in your pj's or in the middle of the night. Check out companies like Upwork, Fiverr, Freelancer, and Amazon to bid on jobs.
Other neat and interesting possibilities?
2. Medical or Legal Transcriptionist
We've noted sites looking for people adept at transcribing court proceedings or medical reports from voice recordings. There is a shortage of workers for this field. Benefits and pay are good. You can choose your transcription jobs. You can be as busy as you wish to be and work from anywhere, any time of the day or night.
3. Translator
If you have a good command of two or more languages you can work as a translator of materials from one language to another.
4. Web Developer
If you are computer savvy and enjoy the creative side of creating websites for individuals and companies then you can work as a freelance web developer and name your price.
5. Travel Agent
Do you enjoy traveling to exotic places? Do you like to write? Then you can combine your two interests and talents and write travel materials. These can be written for a newspaper, a magazine, a travel company.
Or, you can freelance and submit your proposals to the highest bidder. The advantage of being an employee is that your expenses are paid and you earn a salary and benefits. You also don't have to pitch ideas and hope someone will buy them!
There are many jobs people with disabilities are quite capable of doing. Basically, any job that can be done from home is a potential job for people with mobility challenges. Here are some examples:
Data entry – transfer information from reports to Xcel spreadsheets.
Transcription – Transcribe notes from medical reports or court proceedings. This is one of the most in-demand areas now. If you have any medical or legal background and you can type from listening through a headset, there is no limit to the jobs for you.
Writing – SEO articles, web content, Amazon descriptions, blogs, ghostwriting? All are in demand. Writing online is a lucrative business.
Customer service representative – This might involve taking calls, chat-based interaction. Website responses, email, calling on the phone. For someone who enjoys interacting with people and is an eager problem solver, this is an area where you could surely find work.
Translation – If you are bilingual or polylingual, there are many translation jobs online. If you have a specialty area like law, politics, medicine, finance, or fashion then you have a competitive edge.
In Conclusion
We've come a long way. My valued clients don't know or care that I am working for them from a wheelchair. They want high-quality work on time. Companies have learned that people with disabilities have valuable experiences and skills to share.
If you or someone you know is having a hard time finding work from home employment have them check out the sources I've described.