Airports are big, busy, complicated places. If you are elderly or get easily lost or turned around, then wheelchair assistance at an airport is helpful. If you are mobility challenged, then wheelchair assistance in an airport is often the only way you would be able to reach the departure gate on time.
For those of us wheelchair-bound, getting wheelchair assistance at the airport is a necessity. Even if you are someone who is healthy and fit enough to wheel yourself down those miles of airport corridors, you wouldn't be able to do so and tote your luggage, too.
What's the best time to book wheelchair assistance at an airport?
Do it right when you are booking a flight.
So, when you book your flight or have your travel agent book your flight, indicate to the airline's customer service representative.
He/she will put a "Add Special Assistance" note in your reservation.
The departure, arrival, and transfer airports information will also be recorded. The airline will then provide wheelchair assistance at each point on your trip.
It is crucial to book wheelchair assistance at the airport as soon as possible.
Be sure to request wheelchair assistance at an airport at least 48 hours before your trip.
Getting a wheelchair after arriving at the airport is not an easy task at all. It is always wise to request wheelchair assistance at an airport even earlier.
Who is Eligible for a Flight Wheelchair Assistance?
Anyone who self-identifies as disabled to airport personnel is entitled to ask for a wheelchair facility in flights for moving throughout the airport. However airlines use four designations to determine which type of wheelchair or cart assistance is needed.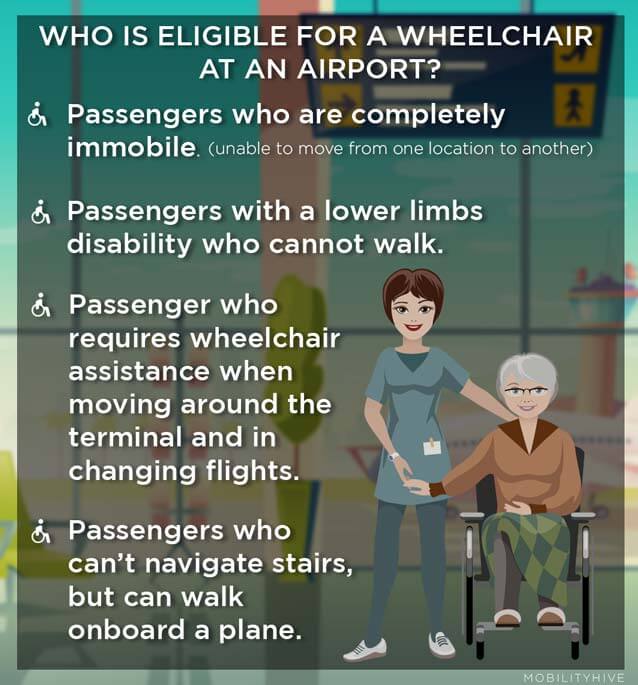 10 Easy Steps to Arranging Wheelchair Assistance at the Airport

Step #1: Find out what is Available
Know what is available for passengers who require wheelchair assistance at the airport. 
Whether you are a passenger, the parent of a passenger, the child of a passenger, or a travel companion of a passenger who requires wheelchair assistance, you can arrange wheelchair assistance/wheelchairs in airports. 

Wheelchair assistance for parents is a common arrangement made by children or grandchildren or friends of an elderly traveler.
Step #2: Get Documentation
Ask your doctor or physiotherapist to write a letter outlining the level of assistance you require because of your mobility challenges. 
Share with your doctor the mobility classifications used by airlines and airports. Have your doctor describe why you fit one of those classifications.
Step #3: Check Airline Accessibility Policy
Before you make an airline reservation, check wheelchair and passengers with mobility clauses on the airline website. 
Look for the airline's accessibility policy and wheelchair option in flights. Or, have your travel agent check into which airline it would be best for you to book given your healthcare needs.
Step #4: Make Your Booking
At the time of booking your flight, have your travel consultant book special needs. Or, if you are booking online, review the airline's policy on accessibility. Look specifically at the wheelchairs section. Find the type of chair you are using to travel.
I like to use my personal manual wheelchair at the airport. I choose to have this one because I like the control—and exercise—of a manual chair. Manual chairs are also a lot easier to get into and out of bathrooms. 
Given my limited motoring skills, it is safer for pedestrians around me that I am not traveling in a power chair or scooter.
Step #5: Inform the Airline of Your Needs
Well in advance of your flight, make your needs known to the airline. Know the four levels of wheelchair assistance as outlined by airlines classifications. 
Refer to these classifications so you and airline personnel are on the same page. Check with the airline's customer service and be very specific about the assistance you need. 
Tell the representative if you want to use handicap assistance at the airport. Inform them if you need to use equipment to board the plane. 
Find out if you can bring your own wheelchair on board. Be accurate about your name, flight number, flight location and destination, departure and return date, and assistance needs.
Step #6: Contact Airport Accessibility
Check to see what options for individuals who require wheelchair assistance in the airport itself. Airline personnel is available to meet the special needs of mobility challenged passengers.
 Sometimes—as in Atlanta and Toronto airports—the airport has personnel moving around the airport ready to respond to customer needs as they appear. 
Other times, the airport wants to know about your special mobility needs in advance so they can have someone ready to meet you with the equipment you need. 
Be sure to inform airport public relations representatives well in advance of your flight. Note the date, time, and the name of the person to whom you spoke. Ask for a follow-up email confirming your request.
If you need a wheelchair at the terminal, arrange assistance at the airport by calling the airport when you make your reservation. Contact the accessibility department to arrange for your individual needs.
Step #7: Check and Double Check
Don't assume everything is fine and arrangements are in place. Call the airport and airline customer service departments at least a week before your flight to confirm arrangements. 
Remind each of the people to whom you spoke and what the arrangements were. In both cases note the name, date and time of the confirmation. Ask for a follow-up email confirming your request.
Step #8: The Night Before
The night before your flight, gather your paperwork. Take along your boarding pass, the letter from your doctor, and all the email confirmations you received from airport and airline public relations personnel. 
Make sure you are carrying phone numbers and names of airport and airline public relations representatives in case there is a breakdown in communications regarding your mobility needs.
Step #9: Show up Early
On the day of your flight, be sure to show up early to ensure your reservation and special arrangements make sense. Airport public relations personnel, you, and your airline want to make sure that wheelchair assistance at the airport makes your trip smooth and stress-free.
When you arrive at the airport, it is important that you self-identify as a passenger with a disability needing assistance. The airline should have noted in your reservation that you need assistance. 
But, remember, the airline will not know that you are the person who requested that assistance if you tell them your name and flight. Show them the email correspondence between you and the airline.
Step #10: On the Plane
On the airplane, be sure to tell flight attendants that you need assistance. Be specific about the help you need such as stowing/retrieving your carry-on luggage, movement to and from bathrooms, assistance getting off the plane, or other assistance during the flight.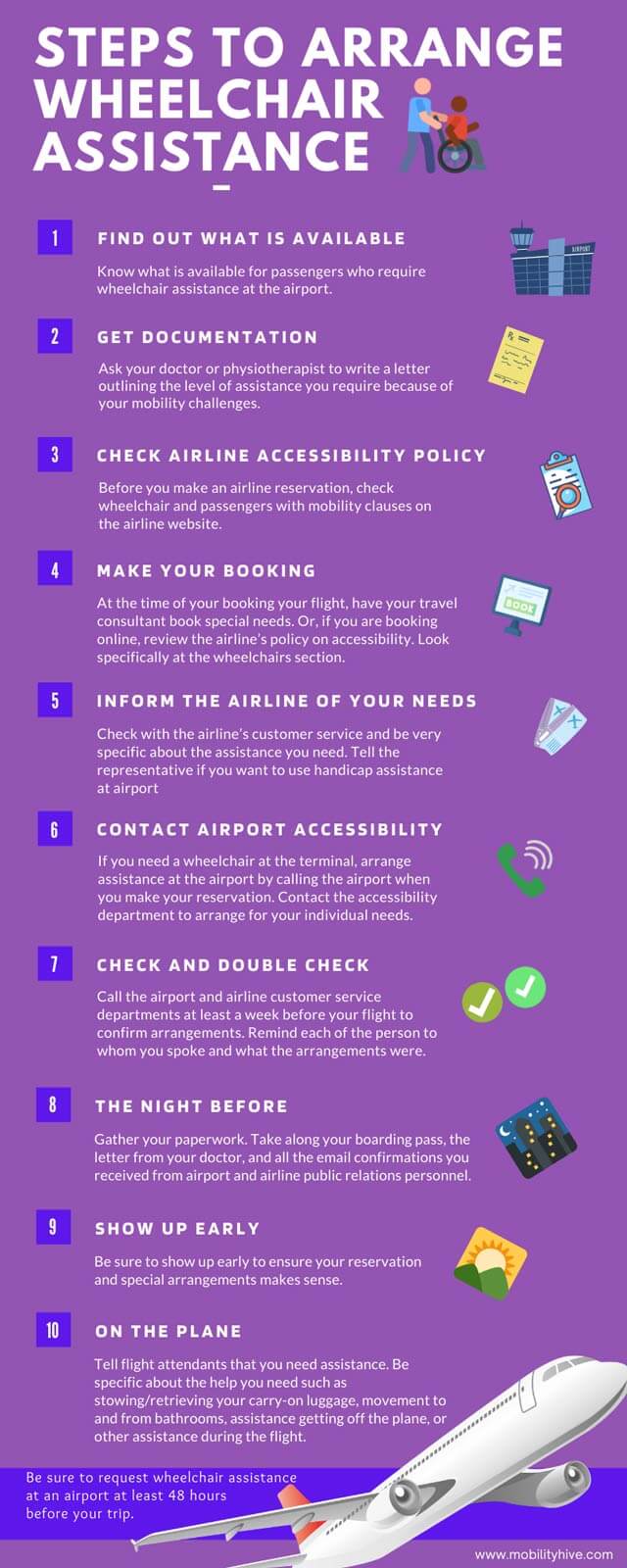 What are the SSR Codes for Wheelchair Airport Assistance?
The SSR (special service request) system is used for a number of services by airlines. It is used to track all requests made for special assistance by passengers on board an aircraft.
These can include requests for assistance with mobility devices or luggage, or for assistance when traveling with a sick companion or someone requiring special attention due to an illness or incident.
The airlines have several classifications of passengers who require wheelchair airport assistance.
SSR Codes
Explanation of Assistance
Types of Disorder
WCHR
Wheelchair Ramp.
Passengers require wheelchair assistance when moving around the terminal and in changing flights.
After landing, this passenger requires wheelchair assistance to the vehicle.
The passenger can't walk a longer distance.
The passenger can navigate the stairs.
WCHS
Wheelchair Stair.
Passenger requires assistance to move between the plane and moving around the terminal.
Passengers cannot walk upstairs or downstairs.
Can walk to his/her seat.
WCHC
Wheelchair Completely.
Disabled passengers require wheelchair assistance to/from the aircraft and must be carried up/down the steps and to/from their cabin seat.
The passenger is completely immobile.
Can sit in a passenger seat with the backrest upright.
WCOB
Wheelchair On-board – provided by the airline.
The passenger needs onboard wheelchair assistance for use during flight.
Do not need to travel with personal care.
Typically passengers with a Locomotor Disability disability who cannot walk.
WCMP
Wheelchair, Manual Power        Passenger flying with a Manual wheelchair (private).
Needs assistance from airport personnel for every move from their arrival at the airport to their departure.
The passenger can have a permanent partial disability.
Passengers with a lower limb disability cannot move the lower part of his/her body.
WCBD
Wheelchair – Dry Cell Battery.    
Passenger traveling with Electric Wheelchair (dry cell battery).      The passenger owned the wheelchair.
The passenger may suffer from a long-term partial disability.
WCBW
Wheelchair – Wet Cell Battery.   
Passengers may require a special seat to meet his/her specific needs.   
The passenger is in a wheelchair (private) that is powered by a dry cell battery. 
The passenger can have a permanent partial disability. 
Other codes may also be filled in by airline staff if there is other special information (OSI) which the airline personnel needs to know.
It is important to be specific and detailed about any assistance and special needs that are required. If the airline does not know about the extent of your needs, he/she may be assigned other passengers with mobility/health needs.
Also, check closer to departure date directly with the airline to make sure your wheelchair assistance and level of assistance have been noted and that arrangements are in place.
Frequently Asked Questions about Wheelchair Assistance at an Airport

Do people with disabilities board First?
Most airlines allow individuals with disabilities and medical conditions to board before others. However, there is no Federal requirement for making passengers with disabilities board the airplane first.
Can an airline ask what my disability is?
An airline representative, such as a gate or ticket counter clerk, cannot ask the person about the nature or severity of their disability.
In fact, most of the questions about disabilities asked during the booking process are prohibited by Section 504 of the Rehabilitation Act and the Air Carrier Access Act (ACAA).
In most cases, airline staff is permitted to inquire about the person's capacity to do specified air travel-related activities, such as boarding, deplaning, or walking through the airport  terminal.
Do airlines charge for wheelchair assistance?
In the USA, UK, and Canada there is no charge for Wheelchair Assistance, which includes a wheelchair and an attendant. Except for some parts of Asia, they charge about $150 for wheelchair facilities on flights.
How does a disabled person board a plane?
The aisle chair is used for disabled persons to board a plane. An aisle chair is a special wheelchair designed to make it easy for disabled people to get up and onto their flight.
They are specifically designed to be placed in the gap between the plane seat and the jet bridge floor.
How do I handle airport security if I am in a wheelchair?
In many cases being in a wheelchair expedites the process. People in wheelchairs or with disabilities often board a plane first. In many cases, they can also skip the security line in American airports or roll through customs and security faster.
Are airplane bathrooms wheelchair accessible?
Unfortunately, most airplane bathrooms are not wheelchair accessible. Many do not have a conventional sink and toilet – you need to ask a flight attendant for assistance when you use the bathroom.
Only Air Canada provides actual wheelchair accessible washrooms on board. This means you can use the sink, toilet and access adjacent stalls.
How much should I tip for wheelchair assistance at the airport?
While the wheelchair assistance is free, the individual who accompanies the chair deserves a tip. Wheelchair attendants who take travelers from point to point should be tipped.
Airport wheelchair assistance tips should be at least $2. If the wheelchair attendant takes you to the restroom or does other extras, then your tip should be $5 or $10.
How does wheelchair assistance work at the airport ?
The wheelchair assistance staff at the airport will meet you at your gate or any other predetermined meeting spot at the airport. They'll ask if they can help you in any way, and they'll wheel your luggage if you allow them to. You might have to show a government ID such as a driver's license before they transport you.
The airline will provide you with an aisle chair, and assist you to your seat. At the end of the flight, they will return your wheelchair to you.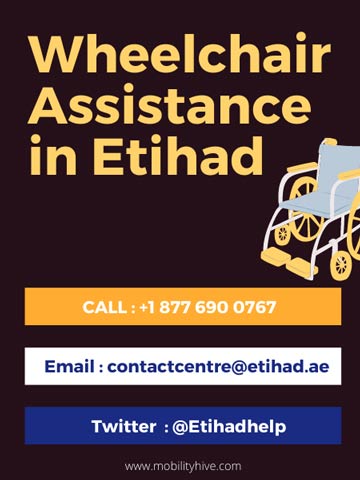 How to book wheelchair assistance in etihad ?
To book wheelchair assistance in Etihad call  +1 877 690 0767  (24/7) or email to contactcen[email protected]  or you can also get in touch with them on Twitter @Etihadhelp
Please remember that if you need a wheelchair, please request one no more than 48 hours before your flight. Otherwise, they won't be able to give you a wheelchair, and your travel plans may be thrown off.
Make sure you wear a mask while traveling with Etihad Airways. In case you have a medical condition that prevents you from wearing a face covering, you have to carry a mask exemption certificate issued by a certified medical doctor.
How to book wheelchair assistance in Emirates?
Emirates wheelchair assistance can be requested at the time you make your flight booking.
This can be done through your travel agent, an Emirates ticket office, over the phone.
Once you've booked your wheelchair accessible flight, please contact your local office to notify them that you're traveling with a wheelchair and need wheelchair assistance. You can find Emirates all local office phone number here: Local Emirates Office
This needs to be done at least 48 hours before your flight departs.
What does Emirates wheelchair assistance cost?
Emirates at ADA provide wheelchair assistance to all passengers on request, free of charge.
Passengers who are considered "ADA Compliant" will need to advise the airline when they make their booking so that the gate agents can inform them about their designated time for boarding and what to do with mobility devices if needed.
Registering your wheelchair at your local Emirates office at least 2 days before your flight will help you make sure all your paperwork is in order. By helping them out, they'll be able to provide you with a smoother and more enjoyable trip!
How do I request a wheelchair on Southwest Airlines?
You can request southwest wheelchair assistance by using the "Special Assistance" link on the Passenger & Payment Info page. 
When you book online, you may see a link (identified with an italicized "i") that directs you to southwest policies on how they help disabled passengers. Then scroll down and complete your booking process.
If your reservation is done already, simply go to the "Manage Reservations" section, input your required information, and click on the "Search" button. 
Click the "Special Assistance" link under your name from that page. After adding your options you should click "Update Information". 
Or, you can also notify them of any disability-related travel needs by calling 1-800-I-FLY-SWA (1-800-435-9792).
If you're traveling with your electric wheelchair, you'll need to let Southwest know at least 48 hours in advance.
How do I get wheelchair assistance on American Airlines?
You can request a wheelchair or make special travel arrangements on American Airlines by calling their Reservations Department at 1-800-433-7300.
Call 800-735-2988 for assistance if you are deaf or hard of hearing.
When you or your travel agent books a flight on American Airlines, select the "special assistance required" tab. Fill out your passenger details and click on: "Request wheelchair service". 
An organizer of special assistance will reach you before you take your flight if you request special assistance during your reservation to ensure that the medical documentation or requests are complete..
How Do I Request a Wheelchair or Special Assistance with United Airlines?
When you book your flight, you can request wheelchair help and support from United.com.
For further assistance or if you have any questions, call the United Airlines Accessibility desk at 1-800-228-2744 in the U.S. or in Canada.
Please complete this form (link) and attach it to your chair if you want to take your own wheelchair on a journey.
How to add wheelchair assistance in delta ?
If you need wheelchair assistance while traveling, Delta Airlines offer wheelchair assistants who will assist you through the terminal, security and to the gate.
You can request Delta Airlines wheelchair assistance by calling a Delta representative at 404-209-3434.
Or, After booking your flight, you can request this service in "My Trips".
How to book British Airways wheelchair assistance?
For quick communication, you can try British airways special assistance phone number 1-800-247-9297.
Call 1-866-393-0961 for assistance if you are deaf or hard of hearing.
Or , after you've booked your flight, you can do this at "Manage My Booking" to modify your booking.
At the bottom of this page, you'll find a link to the 'Disability assistance' request form in the 'Service requests' section.
How do I request a wheelchair on Qatar Airways?
You can ask for wheelchair assistance when booking (Manage Booking)or before boarding by contacting your local Qatar Airways office at least 48 hours prior to departure.
Dial the Qatar Airways Service Number and speak to a team member, detailing your needs. They will send someone to assist you at the airport. If you need help with something on one of your flights, they will ask for clarification and information about what is needed, such as accompanying assistance or another type of support system while pre-boarding or in-flight. Once this has been finalized with them, boarding your flight should be easier.
Please contact Qatar Airways assistance :
USA: +1-877-777-2827 (24 hours a day – 7 days a week)
Canada :  +1-888-366-5666 (Mon – Fri 09:00 – 18:00 EST)
UK : +44-330-912-7415 (Mon – Sat: 09:00 – 18:00, Sun: 09:00 – 15:00)
How do I get wheelchair assistance at Hartsfield-Jackson Atlanta International Airport?
This is the world's busiest airport. It is enormous and complicated. There are guest services representatives stationed around the airport. They will assist you in getting around the terminal, through security, and to your gate. However, it is crucial to make your wheelchair assistance requests early.

Latest posts by Gail Lennon
(see all)