I had no appreciation for the importance of well-constructed wheelchair cushions until I found myself sitting in a wheelchair for a large part of my day.
Wheelchair cushions aren't just about comfort. Cushions are shaped to fit the wheelchair and the user. Cushions vary in pressure sensitivity.
Made in the right size, shape, thickness, and material an appropriately constructed cushion can assist in maintaining proper posture, and correcting poor posture.
A well-made cushion can provide comfort and prevent conditions like pressure sores.
In A Hurry? Our Test Winner After 25 + Hours Of Research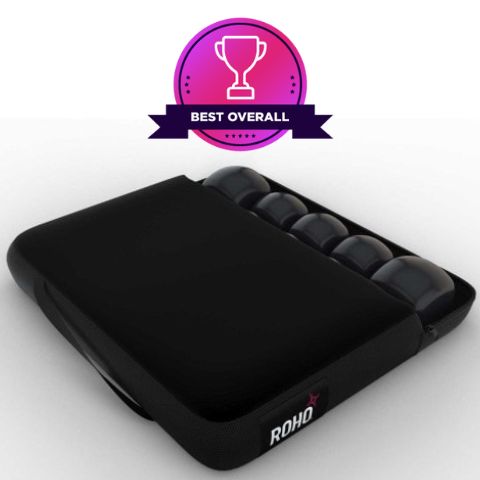 ROHO MOSAIC Cushion
Recommended by many physical therapists.
Best wheelchair cushion for pressure relief.
Roho MOSAIC comes with a cover and an air pump.
Roho MOSAIC has a 1-year limited warranty.
Here is a list of the 5 Best Wheelchair Cushions you should go for
Best Wheelchair Seat Cushions Reviews
#5 DMI Seat Cushion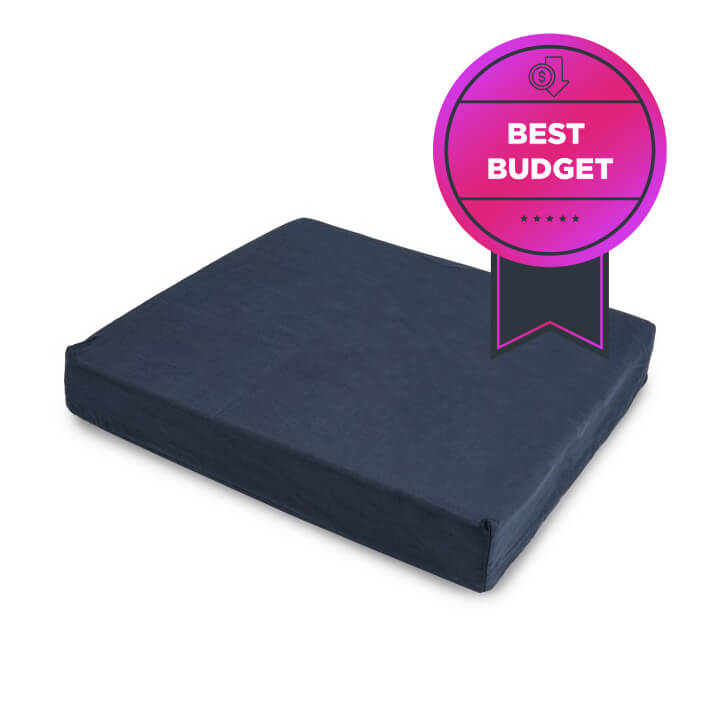 DMI Seat Cushion
Most Affordable
Easily transportable
Fits wheelchairs, scooters, car seats, desk & kitchen chairs
Provides lower back and tailbone support
#4 Drive Medical Skin Protection Gel "E"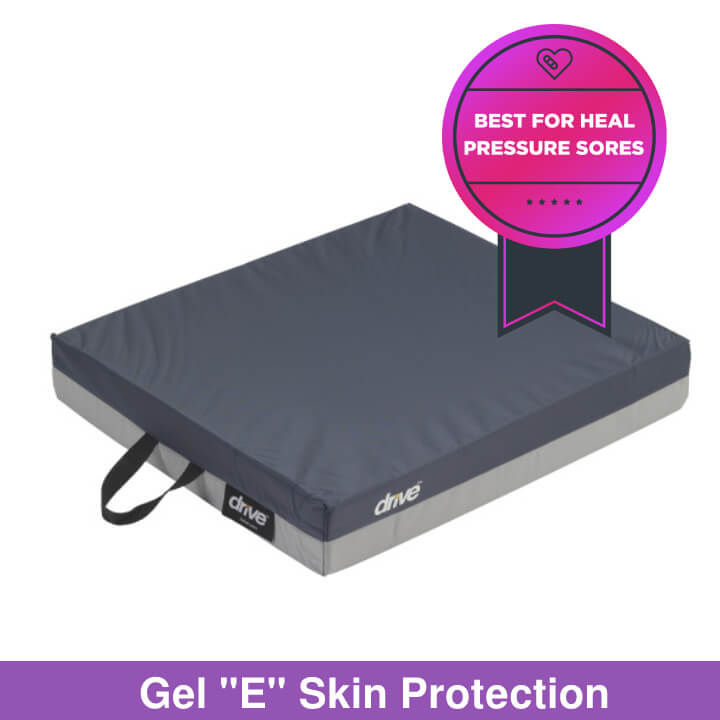 Drive Medical Skin Protection Gel "E"
More comfortable for old age people.
Good choice to pressure relief.
No hassle to return.
Weight capacity: up to 500 lbs.
#3 Vive Wheelchair Cushion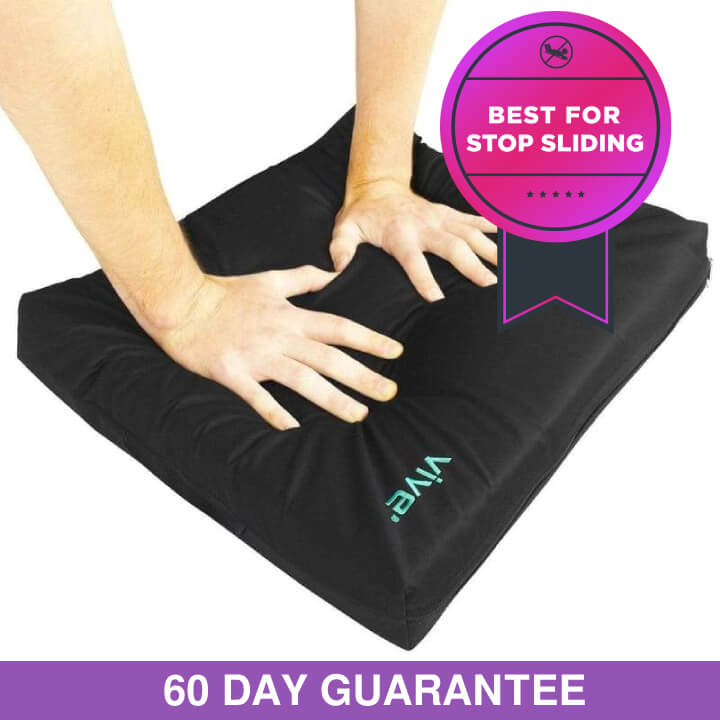 Vive Wheelchair Cushion
Four layers of foam and gel top provide Maximum Comfort.
Exceptional waterproof seal.
Gel core reallocates your weight apart from high pressure.
#2 Xtreme Comforts Large Seat Cushion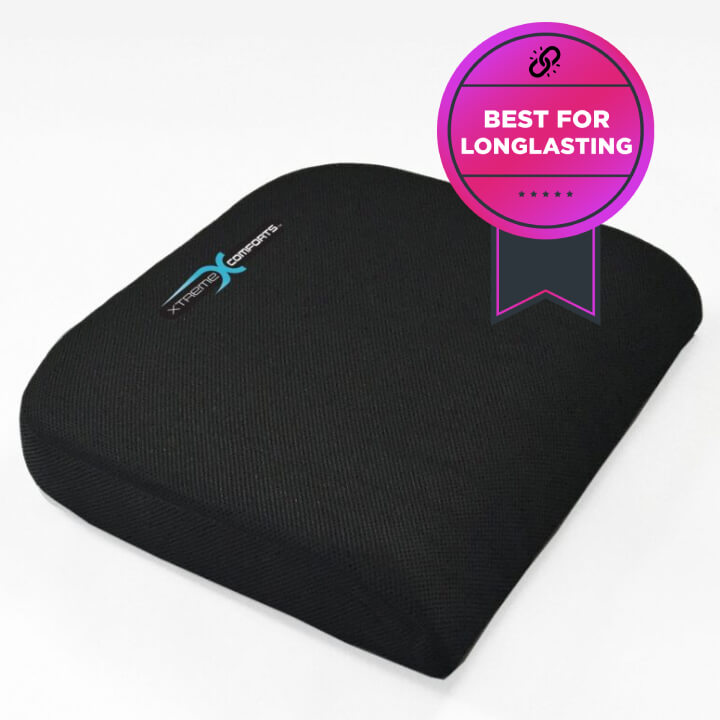 Xtreme Comforts Large Seat Cushion
Sporty as well as stylish.
You can use it on any seating surface.
Designed to relieve back pain and other pain from sitting.
#1 ROHO MOSAIC Cushion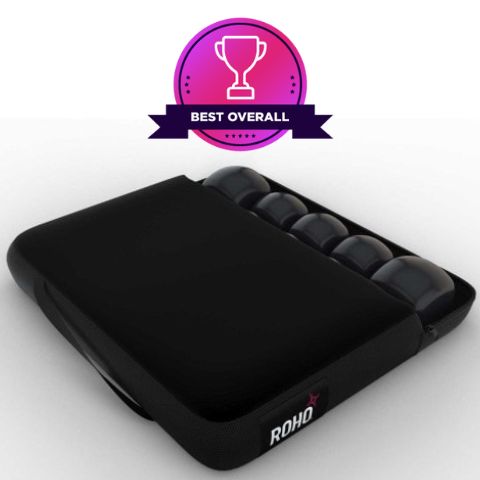 ROHO MOSAIC Cushion
Recommended by many physical therapists.
Best wheelchair cushion for pressure relief.
Roho MOSAIC comes with a cover and an air pump.
Roho MOSAIC has a 1-year limited warranty.
How to Pick the Best Wheelchair Cushion for Yourself
There are a lot of wheelchair cushions on the market today. Moreover, no one wheelchair seat cushion is perfect for everyone.
There are a lot of things to consider including:
The medical condition that necessitates your being in a wheelchair.
The number hours spent in the wheelchair each day.
Which type of cushion provides the greatest degree of comfort, good health, and well-being.
Prevention and management of pressure sores and ulcers is vitally important. The wheelchair pad you
purchase must be safe, appropriate, and easy for the user.
I am fortunate to have the guidance of an experienced occupational therapist and an excellent mobility aids provider who works with me and a custom-made wheelchair cushion creator who is nothing short of a genius in his field.
Through them I have learned that there are several considerations that determine the best wheelchair cushion for me:
Temperature Control
Because I spend most of my time in a wheelchair, my cushion has to absorb heat. Materials like gel or thermoplastic urethane reduce heat build-up.
If you are like me and have trouble regulating your body temperature, look for a wheelchair cushion with temperature-control features.
Weight Considerations
The heavier you are, the firmer your wheelchair cushion should be. A good rule of thumb is that the greater your weight, the thicker the foam in your wheelchair seat cushion should be.
You don't want a too-thin cushion that will bottom out when you sit on it, nor do you want one so thick that it impedes your ability to push yourself around in your chair.
Moisture Control
The wetness from urine, perspiration, or incontinence can make skin vulnerable to breakdown. Moisture-wicking fabrics and water-repellent covers help reduce moisture and keep the skin dry.
Size Matters
There is such a thing as a wheelchair cushion that is too big or too small. A properly sized cushion will not only make you more comfortable but will also help to prevent pressure sores.
Friction
Too much friction makes transfers difficult. Too little friction can result in sliding off the cushion. The right amount of friction provides stability and makes transfers easier.
Maintenance
The cushion should be easy to clean. Extra covers are a must if there are issues of incontinence. The cushion should be light enough to carry with you and easy to transfer from one wheelchair to another.
Weight Distribution
A major concern is prevention of pressure sores. Your wheelchair cushion should support your body weight and distribute pressure evenly for healthy skin.
My cushion has a water-repellent, moisture-wicking cover. The gel inside helps with temperature control and the foam provides good support and weight distribution.
Questions and Answers about Wheelchair Cushions
Q.1) Do I need a Wheelchair Cushion?
Think of it this way: Are you comfortable sitting in the bleachers? If you are and you don't sit in your wheelchair for long periods, then you probably don't need one.
Q.2) Does Medicare Cover Wheelchair Cushions
Yes. Medicare covers the cost of wheelchair seat cushions. Medicare Part B pays 80 percent of the cost. The remaining 20 percent of the cost is yours.
Q.3) How often will Medicare Replace a Wheelchair Cushion?
Medicare will replace a wheelchair cushion every 3 years.
Q.4) What is a ROHO seat cushion?
ROHO is the name of a wheelchair cushion provider. ROHO produces pressure relief cushions made of soft, flexible air cells connected by small channels.
Q.5) What is a Pressure Cushion?
Pressure cushions are specially designed wheelchair cushions that prevent pressure sores when the user is in the chair for an extended period of time.
Q.6) What are Gel Wheelchair Cushions?
Gel cushions buffer the bony areas of the skin to avoid skin breakdown and pressure sores. Prolonged sitting is made more comfortable with a gel layer.
Q.7 What is Pressure Relief Foam?
Pressure-relieving foam helps to improve comfort and eliminate pressure points. This foam conforms to your seat . Your bones and joints sink into foam acting as a cushion.
Q.8) How do you prevent pressure sores?
Reposition every two hours.
Move to the bed or another chair for a few hours.
Make changes to get off pressure points before they  become ulcers.
Add a thin layer of corn starch on the cushion top to reduce friction.
Make sure the cushion is kept dry and wrinkle-free.
Use egg crate padding on the cushion.
Place extra padding on top of the cushion.
Change cushion cover often and launder frequently.
Place the hips in the middle of the wheelchair seat midway between the armrests.
Position your rear as far back as possible.
Ease pressure from back of thighs by using the footrests.

Latest posts by Gail Lennon
(see all)