The world is changing.

In many ways, it's becoming more and more accessible to people with disabilities. As a result, there are now more opportunities for people with physical disabilities to find fulfilling careers.

A variety of options can lead you to a wrong choice.

It is possible to be stuck in a job that isn't right for you and doesn't have any opportunities for advancement if you make the wrong decision.
Making the right career choice requires a series of proper steps.

These will help you to find a career that will make you happy, provide you with a good income, and be stable.
#1 Consider Your Interests & Strengths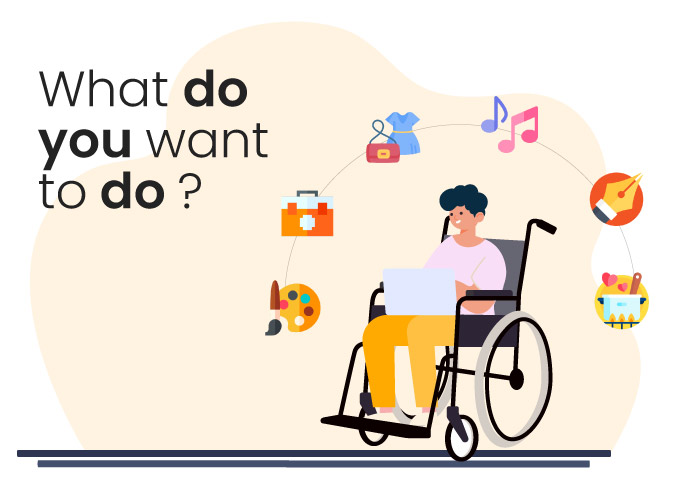 What are you good at? What do you enjoy doing?

Answering these questions can help you narrow down your career options. For examples:
If you're good with people and enjoy helping others, you may want to consider a career in social work or human resources like Addiction counselors, HRM Managers, and more.
If you are a person who is good at writing, you may want to consider a career in writing or editing, e.g., Freelance Writer or Proofreader.
If you enjoy working with children, you may want to consider a career in teaching or counseling. There are many career options available to disabled people, so take some time to explore your options.
If you're interested in a career in fashion but you have a disability that affects your mobility, you could look into becoming a fashion designer or a stylist.
#2 Consider Your Limitations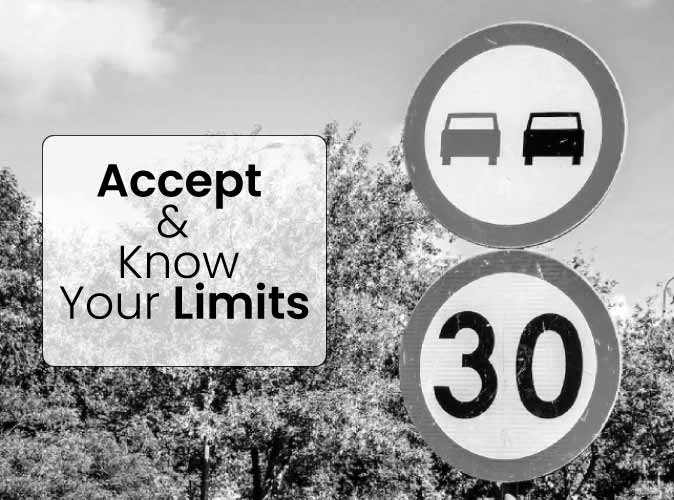 What physical limitations do you have? What accommodations do you need in order to be successful in your chosen career?

Make sure to consider these factors when making your decision. You should also consider the type of accommodations you will need in order to be successful in your chosen career.

For example, if you use a wheelchair, you will need to make sure that the workplace is accessible.

If you have a hearing impairment, you will need to find a career that does not require frequent use of the telephone, e.g., Chat Agents, Data Entry clerks, Website Tester, and more.

Moreover, if you're unable to work a full-time schedule, you'll need to find a job that offers part-time or flexible hours. Make a list of the hours you're available to work each week.
#3 Do Your Research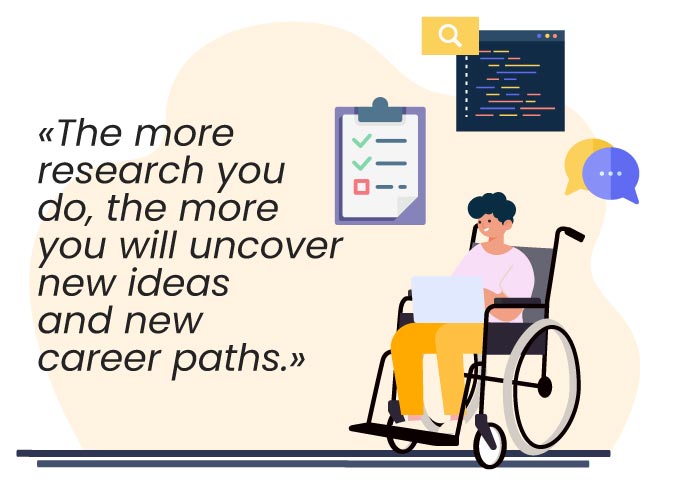 Yes, you have to do your own career research. There is no shortcut.

It is important to carry out effective career research in order to gain a more comprehensive understanding of different opportunities and determine which one is most suitable for you.

Use online resources like O*NET Online and disability virtual career fair – to gain a preliminary understanding of the career you are interested in.

Several careers can be assessed simultaneously using online research.

Create a list of fields that interest you. As a result, you will be able to examine all the potential career paths you think might suit you and decide which option is best for you.

Once you have an idea of what you might like to do, talk to people who are already working in your field of interest to get their insights. Ask them about their jobs and their career paths.

This can help you learn more about your chosen field and make sure it's the right fit for you.

There are many other resources available to help you research different careers.

The Department of Rehabilitation in your state has career counseling for people with disabilities. Vocational Rehabilitation (VR) services can also help you explore different career options and provide training and support to help you succeed in your chosen field.
#4 Consider Your Financial Needs
How much money do you need to earn to support yourself or your family?

Answering this question can help you eliminate careers that wouldn't pay enough. Make a list of your regular expenses and calculate how much you'll need to earn to cover them.

For instance, living in New York would require at least $2500 a month to support yourself, while living in Texas would require less than $1900.
#5 Get Advice from Health Professionals
Talk to your doctor, therapist, or other professionals who know you and your situation.

They can offer valuable advice on choosing a career that will be a good fit for you.
#6 Don't be Afraid to Try Something New
Just because you have a physical disability doesn't mean you have to limit yourself. If you have the ability and the desire, don't be afraid.

The most important thing to remember is that you can do anything you set your mind to.

With hard work and determination, you can find a career that you're passionate about and that accommodates your disability.
FAQ
Can you advocate for people with disabilities in every career?
No, but there are a number of ways to advocate for people with disabilities in many careers.
One way to do this is to become involved with organizations that focus on disability advocacy. Another way to get involved is to participate in awareness-raising activities or events related to disability rights and issues. Finally, individuals can also contact their elected officials to express their support for policies and legislation that benefit people with disabilities.
What closes the career opportunity gap for students with disabilities?
There is no one answer to this question as there are many factors that can contribute to closing the career opportunity gap for students with disabilities.

Some possible solutions include increasing awareness and understanding of the career opportunities available to students with disabilities, providing support and resources to help students with disabilities navigate the job market, and increasing the number of employers who are willing to hire qualified candidates with disabilities.

Latest posts by Gail Lennon
(see all)