You have decided to purchase a cheap wheelchair and you are looking for the best lightweight wheelchairs.

However, with the availability of different affordable wheelchairs to choose from, you may feel a bit confused.

After hours of research and interviews with wheelchair users, medical professionals and mobility specialists, we've come up with the —
5 Best Budget Wheelchairs for Your Every Need
In a hurry! The test winner after 33 hours of research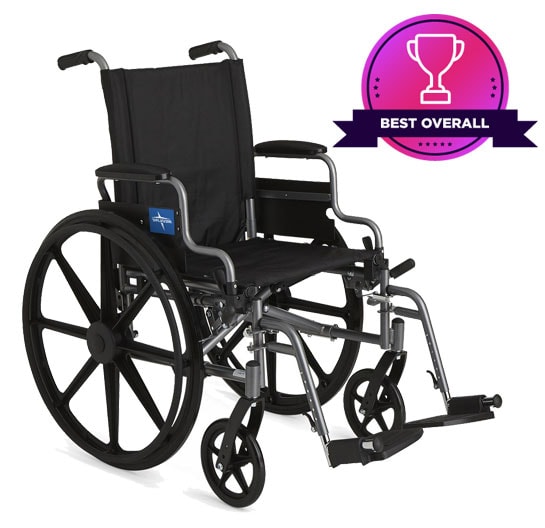 Medline Lightweight & User-Friendly Wheelchair
The most versatile of the best self-propelled wheelchairs.
Swing-back desk-length arms for easy egress, ingress, dining, and working.
Medline offers either a detachable swing-away footrest or a detachable elevating leg rests.
Swing-away, detachable leg supports facilitate ingress and egress.
#5 Drive Medical Blue Streak Wheelchair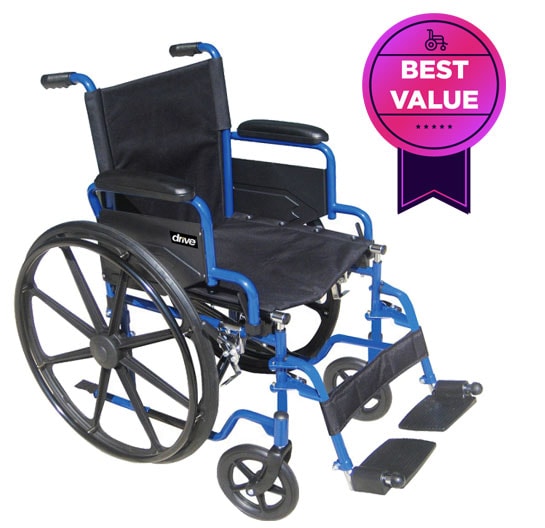 Drive Medical Blue Streak Wheelchair
Most inexpensive wheelchair priced at just over a hundred dollars.
Best wheelchair for occasional use in indoors
Removable footrests for easy storage and lifting into a vehicle
Urethane tires provide durability and low maintenance, easy lock breaks.
#4 Drive Medical Silver Sport 1 Wheelchair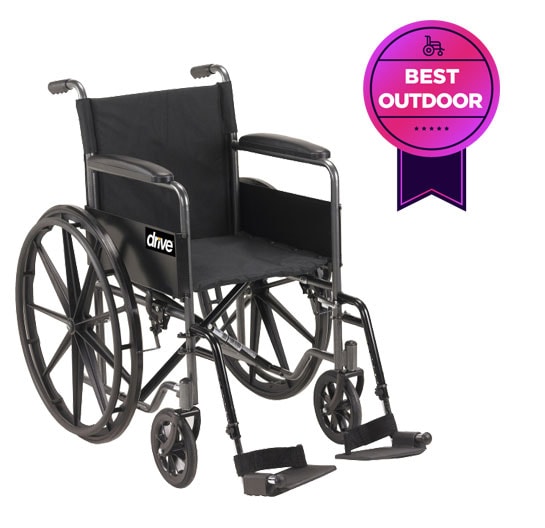 Drive Medical Silver Sport 1 Wheelchair
Silver Sport 1 is reliable and comfortable, one of the best self-propelled wheelchairs.
It has easy-to-use full arms and swings away removable footrest.
At the price, Sport 1 is one of the low-cost foldable wheelchairs.
Drive Medical offers 3 years limited warranty for this wheelchair.
#3 Invacare Tracer EX2 Wheelchair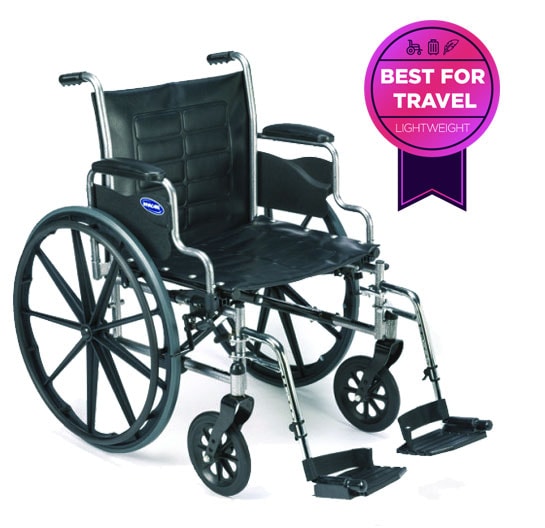 Invacare Tracer EX2 Wheelchair
Best travel chair, lightweight, easy to fold.
Three seat width options allow user customization
Provision for adding oxygen tank holder and other peripherals to meet user needs.
Multiple leg rest positions allow user comfort, aid in circulation.
#2 Medline Comfort Driven Wheelchair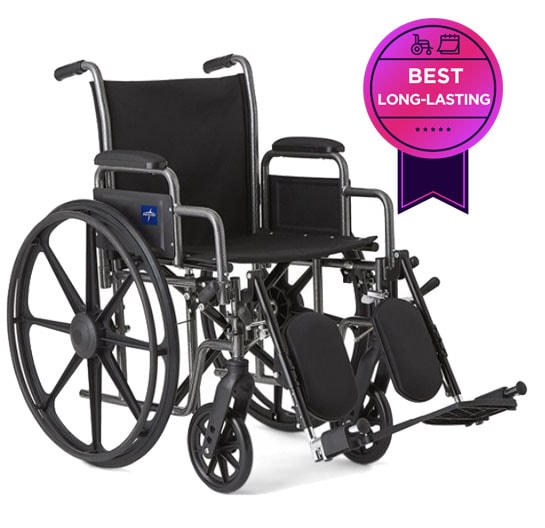 Medline Comfort Driven Wheelchair
Durable tig-welded frame ensures a long lifespan.
Has a wider seating area for large body sizes.
Removable desk-length arms allow users to sit up at a table or desk.
Elevating leg supports relieve user's legs, enhancing comfort
#1 Medline Lightweight & User-Friendly Wheelchair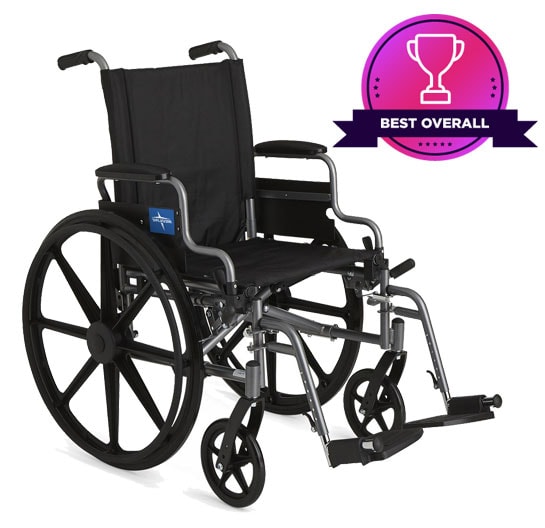 Medline Lightweight & User-Friendly Wheelchair
The most versatile of the best self-propelled wheelchairs.
Swing-back desk-length arms for easy egress, ingress, dining, and working.
Medline offers either a detachable swing-away footrest or a detachable elevating leg rests.
Swing-away, detachable leg supports facilitate ingress and egress.
Accessories you should consider while buying a Cheap Wheelchair
You should always consider the accessories that come with your wheelchair before buying it. These accessories can help make life a lot more convenient and comfortable for an aging or disabled individual.
Wheelchair Cushions
Wheelchair cushions are used for more than just comfort. They are shaped to fit the wheelchair and the person using it. Cushions vary in pressure sensitivity so find one that fits you best.

Made in the right size, shape, thickness, and material an appropriately constructed cushion can assist in maintaining proper posture, and correcting poor posture.
Wheelchair Carrying Cases
A wheelchair case will help you carry your wheelchair from one place to another.

It will also protect the wheelchair. If you take care of someone who uses a wheelchair, you might not recognize how big of a difference this item can make.

You should consider a wheelchair carrying case, that will fit an affordable wheelchair inside.
Cup Holders
The cup holder attachment can be used for more than holding a cup or bottle. It can hold your cup or bottle (or medications) in place. It helps avoid accidents with hot liquid near the skin and possible burns.
Wheelchair Work Trays
Wheelchair work trays are designed to help you hold any number of items on your lap. This is great for people who want to eat their meals, use a laptop or read without having to have someone else feed them. 

Spending money on a wheelchair work tray will enable you to have an extra surface for working.

When you're looking around for one, you should look to find a durable tray. A quality product will have fitted straps that make attaching the wheelchair easy.
Oxygen Tank Holders
More than 1.5 million adults in the United States use supplemental oxygen for a variety of respiratory disorders to improve their quality of life and prolong survival.

ATS Journals
Oxygen tank holders are usually made out of polypropylene and come with adjustable straps that can accommodate small or large oxygen tanks, as well as any height difference between the patient chair and caregiver chair.

When you need to bring oxygen tanks with you, getting a tank holder is important.
Wheelchair Armrest Covers
The majority of wheelchair drivers will come with foot support. Many cheap wheelchair designs don't focus on the arm being comfortable.

The armrest pads reduce pressure on the elbows and arms. Arm covers can also help prevent soreness as a result of pressure sores, skin irritation, and nerve pain.
Wheelchair Side Bag
A wheelchair side bag makes it much simpler to carry around all your belongings. A lot of people will want their own bag for carrying around whatever they may need while out in public with their wheelchair.

This can be done by using a side access bag that has some extra space so that you can fit what you might need.
Wheelchair Leg protectors
Wheelchair leg protectors are an extra layer of padding for your legs. You can attach them to the bars on the wheelchair.

This is a good thing for people who can't control their arms and legs. It helps them keep their legs and feet from moving.
Things You Need to Consider When Buying an Affordable Wheelchair: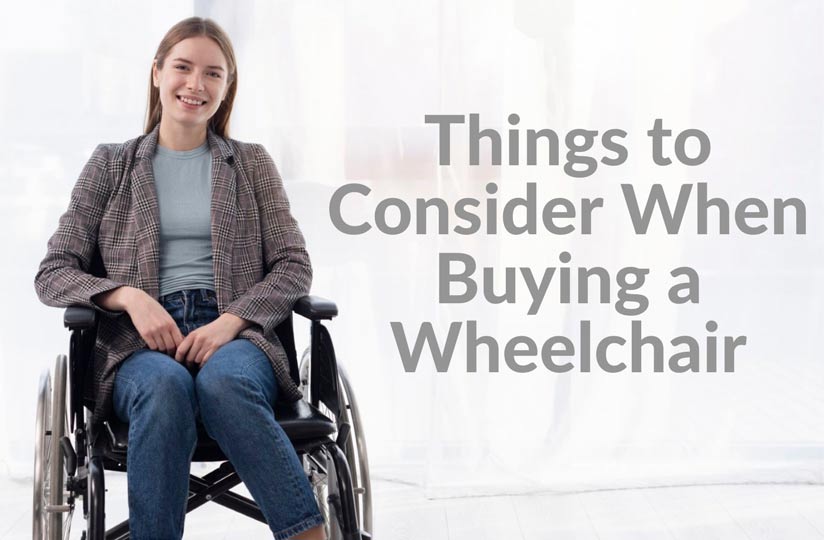 To be able to make the right decision when buying wheelchairs, you need first to know a few things about wheelchairs.
It is important to know which type of affordable wheelchair will best fit the needs of the person who will use them.
Length of Use
When buying a cheap wheelchair, you should consider the duration of its use. If you need a wheelchair for temporary purposes such as short-term injury rehabilitation, then specialized wheelchairs might not need much consideration.
Purpose of Using
Do you want your wheelchair to be used indoors or outdoors? Remember to consider your lifestyle when purchasing a wheelchair as they can vary greatly.

If you are a stay-at-home person and you need a wheelchair to get around, then you will want to get a narrow one that is easy for you to use. This will make it easier for you.

On the other hand, wheelchairs that are used outdoors usually come with excellent traction to easily handle difficult terrain.
User Age
How old is the person? Manual wheelchairs now come in many sizes, so it's important to choose a wheelchair that will fit the user.
User Body Type
Is the user on the average size or oversize? Typical lightweight cheap manual wheelchairs can carry up to 250 pounds. For users who are over 300 lbs, Heavy-duty wide wheelchairs are also available for them with mobility needs. A few heavy-duty wheelchairs can carry as much as 700 lbs.
Level and Type of Injury
One of the most important things to consider when choosing an inexpensive wheelchair is the individual's level and type of injury.  You want a wheelchair that will be able to handle the individual's needs and condition.

In case of a leg injury, the elevating leg rests deliver customizable support for them.
Store or Transport Competence
Wheelchair transportation is an important consideration when purchasing a cheap wheelchair in order to transport it easily.

Make sure there is enough room to store the wheelchair and still have space for an individual's belongings.

You may want to measure the trunk before you buy your wheelchair so that you know what size of manual wheelchairs will work best in it.
What are the Features do I Need to Consider When Buying a Cheap Wheelchair?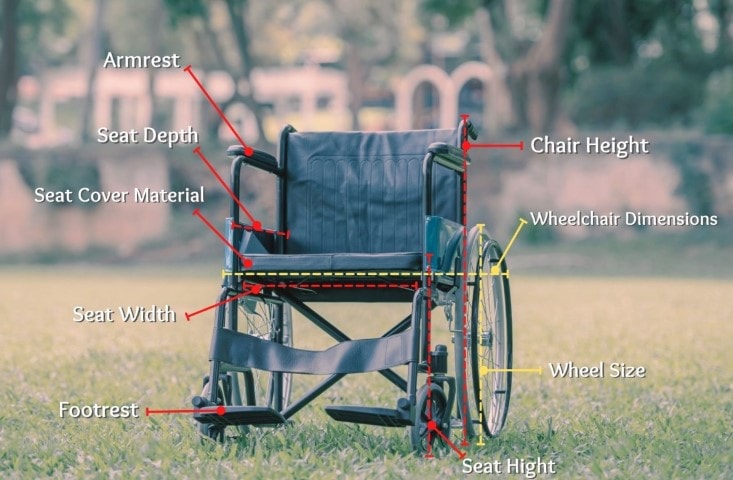 If you are looking for a manual wheelchair that is lightweight and affordable, then you should consider the following features when making your purchase:
Comfort and Support
A wheelchair that is used every day needs to be comfortable. The most important part of this chair is the seat.  If you are going to be sitting in it for a long time, then the seat and backrest should have a breathable cushion.

In addition to this, there needs to be enough space between your thighs and armrests so that they will not feel tight.
Wheelchair Weight
How much the manual wheelchair weighs will be paramount to your comfort. If you are looking for a manual wheelchair that is lightweight, then it should weigh no more than 38 pounds. This makes it easier to lift and move around when needed without straining yourself or getting injured in the process.
Seat Cover Material
For manual wheelchairs, you can find durable seat cover materials. The material should be easy to clean and also very comfortable for the user.

For those who need to stay seated for an extended period of time, breathable fabric might be the best option.
Seat width
When searching for a new cheap wheelchair, be sure to consider both the width and the seat size measurements. A wheelchair seat is usually the measurement upholstery between the armrests.

Wheelchairs come in a variety of seat widths, usually 16 to 24 inches with the most common width being 18. The seat should be the right width. That way, it is more comfortable and you can use it better.
Seat Height
Seating height is important for comfort and ease of mobility. Most standard wheelchairs are 18″ to 20″ high, which is okay for people who are average height or taller.

You should consider wheelchairs with lower seats if you're shorter than most people because they will give your feet more room for movement when it comes time to take steps in unexpected situations.
Chair Height
What kind of height adjustments does your cheap lightweight manual chair offer?  How tall is the whole thing? This will affect the maneuverability of the wheelchair and how difficult it is to transport around.  It will also affect the level of comfort.
Seat Depth
How deep is your affordable lightweight wheelchair seat? The depth can make a difference in terms of how much pressure you are putting on your spine and where that pressure falls.

It may even be an issue if you have to use it for long periods, so it's worth considering this factor when picking out one with affordable features.
Wheelchair Dimensions
It is very important to consider the size and dimensions of a wheelchair before buying it.

Think about the smallest and narrowest doorways, passageways, or elevators that you will use in your day. When you're a wheelchair user, the most difficult areas of your house to navigate often involve a bathroom door or narrow hallway.
Armrests
The manual wheelchairs need armrests as well with padded surfaces that can handle more weight. Additionally, armrests should be large enough so that you can rest your arms on them while sitting.
Footrests
Footrests are things that give you extra support, and they feel good. Footrests are usually adjustable and offer more comfort as they reduce the pressure on your lower legs.

You can also find footrest extensions that will provide additional support to your feet which may be beneficial if you have a disability or injury.
Wheel Materials and Size
The size of the wheel and the width of the tire makes it comfortable for you to drive. A standard manual wheelchair back wheel size is 24".

For easy maneuvering, choose a wheelchair with bigger back wheels.

Some cheap manual wheelchairs come with tires made of lightweight materials like rubber so it is easier for you to push them around, especially over uneven surfaces. The cheaper versions typically do not last very long though which means that you should probably look elsewhere if this is important to you.
Adjusting Options
Wheelchairs available at cheap prices have adjustable features.  You can adjust the wheelchair's seat height, seat depth, backrest, and footplates to a position that is comfortable for you.
Weather Protection
If you live in a place that is very hot or cold, it's important to consider weather protection when buying an affordable wheelchair. Many of the cheap wheelchairs offer good weather protection for your mobility device. For example, some wheelchairs provide a waterproof seat cover for wet protection.

How much does a cheap wheelchair Cost?
If you were to buy a cheap wheelchair, it would typically cost about $100-$200. If you are going to buy a wheelchair for your short-term illness, then this can be a good option.

Take into account, these wheelchairs don't have as many features for comfort. They are not good for long-term use.

Most cheap wheelchairs typically do not have any suspension, moderately sized wheels, and economy padded seats which make long-time travel very uncomfortable.

In order to find the lowest possible price wheelchair, it's crucial that you take note of any rider requirements when purchasing.
How do you get a free wheelchair?
Your country may have a free wheelchair organization that will provide the wheelchair free of charge, or at low cost. You can sometimes find a free wheelchair by contacting your local charity or church. They take donations of money and free wheelchairs, fix the free wheelchairs up to the best possible quality, and then distribute them free of charge or at a very low cost.

For those who are unable to contribute money or donate free wheelchairs, you may volunteer your time at such an organization to earn credit towards receiving a wheelchair for free.
How long should a wheelchair last?
The average wheelchair will last around 2-3 years. The lifespan of a wheelchair highly depends on the way it is being maintained and stored.  A wheelchair that is well maintained and stored can last up to 8 years.

A wheelchair's lifespan also depends on how it is used. The daily use of a wheelchair will shorten its lifespan due to wear and tear.
How often should a wheelchair be serviced?
A wheelchair should be serviced according to the manufacturer's recommendations.  Usually, once every 2 to 3 months, check that all screws are securely in place.

As a wheelchair has many moving parts, it is important that you have a wheelchair service provider check your wheelchair regularly for any loose or damaged components and make repairs if necessary.

You should also check your wheelchair yourself before each use and correct any problems immediately. This includes checking the brakes, wheelchair tie-downs and footrests. Your wheelchair will need adjusting frequently as you change in size or shape from weight gain or loss, pregnancy.

After each adjustment, it is very important you re-test all functions of the wheelchair to ensure they are working properly before using your wheelchair.

Latest posts by Gail Lennon
(see all)