One of the latest in these miraculous devices is the Medline K4 Basic Lightweight Wheelchair.
How liberating the lightweight wheelchair is.
There was a time when people with mobility issues didn't go anywhere. They were rolled or they self-propelled themselves awkwardly around their homes in big, unwieldy chairs that looked like high-back rockers with wheels.
How the world has opened up for those with disabilities. They can travel. They use easy-to-fold-up chairs that will fit into the trunk of any car. The latest in innovations is the lightweight chair. With this, a new world of independent travel is possible.
The lightweight chair means many seniors and those with injuries can load their chairs and drive themselves to appointments, everyday activities, family gatherings, social events and travel destinations.
| | |
| --- | --- |
| Product Weight | 33.5 lbs |
| Weight Capacity | 250 lbs |
| Color | Black |
| Seat Dimensions | 16″, 18″ and 20″ |
| Manufacturer Warranty | 1 Year Limited |
In A Hurry? Our Top 4 Reasons To Buy
Medline K4 Basic Lightweight Wheelchair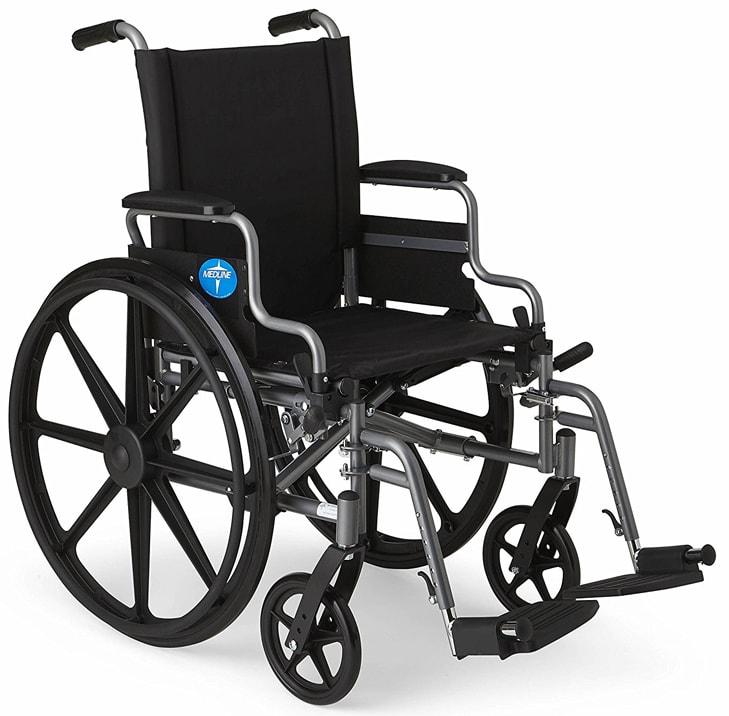 Why choose the Medline wheelchair?
Medline K4 Basic Lightweight Wheelchair Review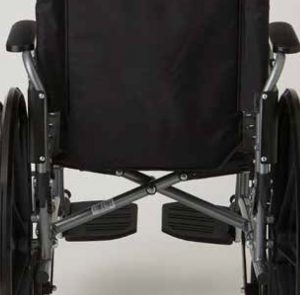 Why We Recommend This Wheelchair
For a lightweight folding wheelchair, the K4 is no slacker. Its durable carbon steel frame is sturdy. The cast-aluminum seat cradle will hold users of up to two hundred and fifty pounds.
This is a low-maintenance chair. The easy-to-clean upholstery is securely with threaded seat screw inserts reduce stripping. Sealed bearings in the fork housings, and all four wheels keep out dirt.
The K4 comes three widths for a perfect fit. Comfort is further offered by both vertical and elevating leg rests with padded calf pads.
Out of the many lightweight wheelchairs on the market today, the Medline K4 is beyond basic.
For the price, the K4 Medline Basic Lightweight wheelchair is a good value. Compared to other folding wheelchairs, it offers several options in width and leg rests to address the unique needs of the user.
The Medline K4 Basic Lightweight Wheelchair is not ultralight but, for portability, wheels flip off. Leg supports click off. This makes lifting its parts both doable and convenient.
The K4 is an attractive, basic chair. It will please most users. The K4 is competitively priced. It comes with appealing amenities like the desk length, easy to flip back padded arms. As a lightweight chair the Medline K4 Basic wheelchair is user friendly.
Moreover its disk brakes and swing out footrests make it a safe chair to operate. The K4 has easy to remove leg and foot supports. Thus, transfers from the chair to bed or toilet are worry free. Desk-length padded arm rests allow the user to get under desks, tables, and bathroom sinks.
The K4 lightweight wheelchair's nylon back and seat are both durable and easy to clean. The K4 is intended to be folded up and stored easily in a closet when it is not in use. This chair is also highly portable.
It can be  collapsed and stored in a trunk for travel Its weight  makes it feasible for any adult to get it into  and out of a vehicle. Nylon upholstery does not sweat in hot weather. This breathable material makes it comfortable for users.
If your condition requires it, you can order your Medline K4  with leg supports that will elevate legs for improved circulation.
Best used in an indoor setting, the K4 is easy for any user with upper body strength to lift and to maneuver. The large back wheels and responsive front wheels make it easy to turn and to propel in small spaces.
This folding wheelchair is guaranteed to meet all your needs—and more. If you are looking for a chair that will give you mobility, comfort, and greater independence then you need look no farther.
No one wheelchair is ideal for the diverse needs of all users. But for cost, portability, durability and options, the K4 comes close. Recommended options for the K4 include: the Ultralight transport carrying case.
This keeps the K4 dust free when stored in a closet. It also makes the chair easier to load and carry in a car trunk, bus, train, or plane.
Even if you're not going to be sitting in your Medline K4 Basic Lightweight Wheelchair for long periods, a quality seat cushion is a must.
A good choice is the Medline Contour Plus seat cushion. It ensures proper positioning of both hips and legs. The gel packs cool skin and avoid painful pressure points. The Medline contour cushion is covered with a stretchy resilient, waterproof fabric.
Medline K-4 Basic Lightweight Wheelchair Frequently Asked Question
How heavy is this chair? Can anyone lift it?
Answer: The K4 is just over thirty pounds. The twenty-inch width is a little heavier. While not ultra-light, it can be disassembled easily into five pieces—all of which can be easily lifted. When taken apart, most adults can lift the various parts easily.
Can I use this chair outside?
Answer:The K4 Medline Lightweight wheelchair is not intended for transport across grass, sand and other uneven and challenging surfaces. Certainly you could sit in it on a porch or patio.
Does the K-4 chair have to be assembled?
Answer: Only the leg rests have to be clicked into place when your chair arrives.
What are the K-4 chairs measurements?
Answer: Width varies. You may buy 16", 18", or 20" inch seat widths. Add 7.5" inches to each to get maximum chair width. So, a 16" inch chair would be 23.5" inches wide.
Can I take this chair onto an airplane?
Answer: The chair can be folded and sent onto the plane as checked luggage. We recommend you purchase the ultra-light carrying case to transport it safely. Your chair will be taken to baggage and loaded after you have been seated on the plane. It will be tagged for last-one and first-off so it arrives at the door of the plane when you arrive at your destination.
How do you know which width you need?
Answer: The chair should be wide enough to accommodate width across the buttocks, hips, or thighs. It is important not to feel too snug in the chair. But you don't want to slip around in it either.
What is the maximum weight of a passenger in a K-4 Medline Lightweight wheelchair?
Answer: The chair is built to accommodate users of up to 300 lbs.
Are there accessories that should be purchased?
Answer: If you are going to be sitting in the chair for extended periods, we highly recommend a good supportive cushion. For the K4 a good choice is the Medline Contour Plus cushion. It ensures proper positioning of both hips and legs. The gel packs cool skin and avoid painful pressure points